Dollar Jumps as Fed Minutes Boost June Hike Odds; Bonds Retreat
by and
S&P 500 bank stocks advance, while utility shares slump

Japanese index futures signal gains as yen slides on Fed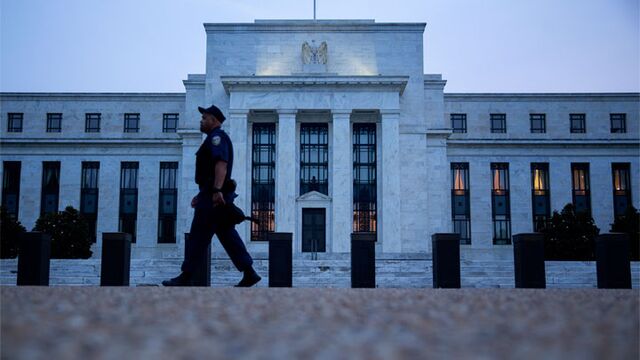 The dollar rallied and Treasuries plunged after minutes of the Federal Reserve's last meeting showed officials discussed raising rates as early as June. U.S. stocks fluctuated before ending little changed.
The greenback jumped the most in six months as the minutes sent odds of a rate increase at the Fed's June 14-15 meeting to 30 percent, from 4 percent a week ago. A rally of as much as 0.7 percent in the S&P 500 Index petered out as investors sold stocks that provide high dividend yields after the 10-year Treasury rate spiked as much as 11 basis points. Banks rose on speculation that higher borrowing costs will boost profits, while emerging-market assets sank on expectations investors will seek higher returns in the U.S. Oil fell.

The April meeting minutes indicated most policy makers said a rate hike would be appropriate in June should the U.S. economy continued to improve. The signal that next month's gathering may be in play came a day after strong data on consumer inflation, housing starts and industrial production bolstered the case for policy tightening. The Fed raised benchmark rates in December for the first time in almost a decade after near-zero borrowing costs helped triple of U.S. equity values during the seven-year bull market.
"The market seems to be interpreting the statement as hawkish and setting up the likelihood of a rate hike in June," said Mark Luschini, chief investment strategist at Philadelphia-based Janney Montgomery Scott LLC, which manages $54 billion. "Just yesterday the probability assigned to that happening was exceedingly low. Now it seems that those odds have moved higher, and for the moment the headline indexes are reacting negatively."
Referring to the June meeting, officials "generally judged it appropriate to leave their policy options open and maintain the flexibility to make this decision" based on how the economy evolves, according to the minutes.
Stocks
The S&P 500 added less than 0.1 percent to 2,047.63 as of 4 p.m. in New York, after swinging more than 0.6 percent in both directions. Since the conclusion of the Fed's meeting on April 27, the benchmark has fallen about 2.3 percent and Goldman Sachs Group Inc. has downgraded equities to neutral, saying they don't look attractive unless companies record sustained earnings growth.
"The unemployment picture still looks reasonably good but other readings on growth domestically and across the globe have been sluggish," said Mark Heppenstall, the Horsham, Pennsylvania-based chief investment officer at Penn Mutual Asset Management. "With the likelihood of a rate rise increasing, you'd expect an unwinding of the trade in dividend and utility stocks and that's a logical reaction given the move we've seen in the two-year note the past few weeks."
Retailers remained under pressure as Target Corp. posted its steepest drop since 2008 after reporting quarterly sales that missed analysts' predictions. Wal-Mart Stores Inc. lost 3 percent, dragging down consumer-staples shares after the group slid the most in eight months on Tuesday.
Financial shares recorded their best performance in a month after JPMorgan Chase & Co., the largest U.S. bank by assets, raised its quarterly dividend. On only two occasions since 2009 have bank shares in the S&P 500 outperformed the broader index as much as they did Wednesday. Once, when Jamie Dimon spent $26.6 million to buy shares of JPMorgan Chase & Co. in February, while the other time was in November 2010, as the Fed prepared guidelines on whether lenders were strong enough to boost dividends and buy back shares after the financial crisis.
The Stoxx Europe 600 Index added 0.9 percent after swinging between gains and losses throughout the session. Burberry Group Plc dropped 2.7 percent after the luxury-goods retailer added to the gloom surrounding the industry by posting a second straight drop in annual earnings.
The MSCI Asia Pacific Index lost 0.8 percent, led by declines in consumer-goods producers. Suzuki Motor Corp. plunged 9.4 percent in Tokyo after saying it used an improper method to test the fuel efficiency of its vehicles. Chinese equities led declines in emerging markets, with the Hang Seng China Enterprises Index of mainland companies listed in Hong Kong losing 1.5 percent.
Futures on Asian indexes were mixed following the Fed minutes, with contracts on Japanese shares rising as those on Korean and Australian equities fell. Futures on Hong Kong's Hang Seng Index added 0.5 percent in most recent trading.
Currencies
The Bloomberg Dollar Spot Index, which tracks the greenback against 10 major peers, climbed 0.8 percent, the most since Nov. 6 as the Fed minutes burnished prospects of a rate hike next month. The yen slipped 1 percent to 110.19 per dollar, while the euro weakened 0.9 percent to $1.1216.
The pound jumped to a three-month high against the euro and reversed its drop against the dollar after a poll showed the campaign to keep Britain inside the European Union had extended its lead. Sterling rose 0.9 percent to $1.4599 after earlier dropping as much as 0.4 percent. The survey by the Evening Standard newspaper and Ipsos Mori put the "Remain" camp's lead at 18 percentage points.
The MSCI Emerging Markets Currency Index fell 0.5 percent with Brazil's real and Russia's ruble leading losses.
The South African rand sank 2.1 percent. South African Finance Minister Pravin Gordhan said accusations that he was involved with espionage are false and "malicious." The Sunday Times newspaper had reported, citing people it didn't identify, that Gordhan is at risk of being charged with espionage and fired.
Commodities
Copper fell along with other industrial metals amid rising supplies and an uncertain demand outlook in China, the world's top consumer. Antofagasta Plc, a Chilean copper producer, said it isn't counting on an improving global economy and expects low copper prices for another year or two, according to a statement from Chairman Jean-Paul Luksic.
Copper for delivery in three months slid 1 percent in London, while nickel dropped 1.8 percent. Gold for immediate delivery lost 1.6 percent as the prospect of a U.S. rate hike next month dimmed the precious metal's appeal as a store of value.
West Texas Intermediate crude slipped 0.3 percent to settle at $48.19 a barrel in New York after closing on Tuesday at its highest level since Oct. 9. Oil rose earlier in the session after American government data showed a bigger-than-anticipated fuel-supply drop as demand grew. Brent added 0.7 percent to $48.93.
Bonds
Yields on two-year Treasuries climbed six basis points, or 0.06 percentage point, to 0.90 percent, while 10-year rates increased by eight basis points to 1.85 percent, after touching 1.89 percent. That compares with a one-month low of 1.70 percent reached at the end of last week.
Jan Hatzius, chief economist at Goldman Sachs, warned that bond investors aren't prepared for the Fed to raise rates despite officials having flagged the possibility of such a move.
"The market's underestimating their willingness to follow through on what they say," Hatzius said in an interview on Bloomberg TV. "If you look at where the yield curve is priced -- how little normalization of monetary policy is discounted -- that's very striking."
Before it's here, it's on the Bloomberg Terminal.
LEARN MORE