As China Revamps Regulation, PBOC Gears Up for Central Role
Bloomberg News
Central bank is monitoring areas once left to other regulators

PBOC also aims to set up more offices around the nation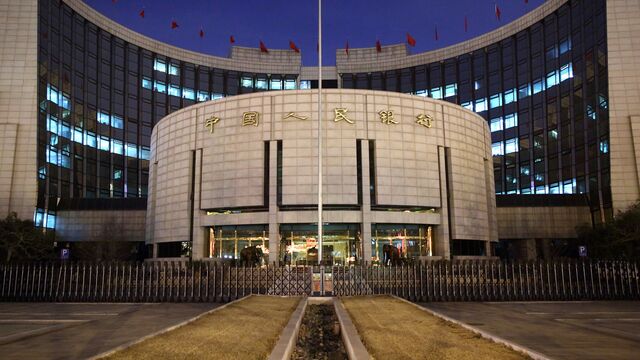 As China's leaders consider ways to improve market oversight and avoid the kind of boom and bust in equities that shook investors around the world last year, the nation's central bank is already extending its oversight to areas beyond its traditional focus.
QuickTake China's Market Meddling
The People's Bank of China this month expanded its powers to cap cross-border capital flows by adding controls for banks and companies to its new Macro Prudential Assessment system. The risk-monitoring system announced in December was expanded just one month later to include bonds, equities and off-balance sheet assets held by commercial banks, giving the central bank authority that was once the turf of the banking regulator.
The PBOC is also spreading its tentacles regionally, saying last month it plans to re-establish a provincial-based bureau structure that was abolished in 1990s so it can better gauge conditions on the ground. The goal: to consolidate risk monitoring so problems in banks or markets are spotted before they blow up and do real economic damage.
China's need for better oversight of its bubble-prone markets and improved communication of policies was plain to see last year, when a $5 trillion stock-market collapse and shock currency devaluation rattled global investors. Authorities are considering convening a top-level finance work conference this summer -- a year ahead of schedule -- to map out a sweeping consolidation of the financial regulatory system, Bloomberg reported last month.
Broad Mandate
The PBOC has an "upper hand" in any shake up because of its broad mandate to maintain financial stability, according to Zhu Ning, deputy dean at Shanghai Jiao Tong University's Advanced Institute of Finance in Beijing and author of the book "China's Guaranteed Bubbles," which examines China's rising debt threat.
Zhu said there are two likely outcomes from the regulatory revamp: the PBOC emerges as the key coordinating regulator, or a new super regulator is created to work alongside the PBOC. The PBOC-led option has the advantage of being clearer and more effective, according to Zhu, by avoiding the potential for conflicting policies or loopholes that could be exploited.
Spokespeople for the PBOC and the securities, banking and insurance regulators didn't immediately respond Tuesday to faxed requests for comment on the regulatory changes.
British Model
One approach gathering support among policy makers is to use the Bank of England's position as a reference and grant the PBOC more power over financial firms in an enhanced macro-prudential role, Bloomberg reported last month. Li Bo, director of the central bank's monetary policy division, wrote in an article in February that combined regulatory authority similar to the U.K.'s framework is a "preferable" option in China.
The central bank's governor Zhou Xiaochuan criticized the local regulatory system at a Group of 20 meeting in Shanghai in February, saying its performance through the financial turmoil of 2015 was "unsatisfactory" and the shake-up should be coordinated with the new macro prudential framework in mind.
Anticipated Resistance
"The central bank is expanding its authority and scope of management in the name of macro-prudential assessment," said Ming Ming, head of fixed income research at Citic Securities Co. in Beijing. He anticipates resistance from the nation's other three regulators that currently oversee banking, insurance and securities.
The China Securities Regulatory Commission was established in 1992 and led by Zhou from 2000 until 2002, when he became PBOC governor. The CSRC has been bruised recently, with its performance criticized by Premier Li Keqiang, and its chairman removed in February. The new head, Liu Shiyu, is a former PBOC deputy governor.
The banking watchdog, formed in 2003, has also been criticized by analysts for not doing enough to curb the rampant borrowing for leveraged share trading that exacerbated last year's swings.
Bigger Role
That leaves the central bank -- itself not unscathed with global investors calling for better communication after last year's surprise move to weaken the yuan -- taking on a bigger regulatory role while it also tries to keep the economy humming. In a statement Saturday, it said monetary policy will remain supportive after new credit rose less than expected last month, fueling concerns over the economic outlook.
Giving the PBOC a "superior position" to track financial risks and keep threats from slipping through the cracks should make Chinese markets a safer bet, according to Shen Jianguang, chief economist at Mizuho Securities Asia Ltd. in Hong Kong.
"It would fill in the current regulatory loopholes and prevent systematic risks," he said. "That should allow economic growth to speed up and facilitate supply-side structural reforms, reducing the spillover effects of a slowing Chinese economy on global markets."
— With assistance by Heng Xie, Zheng Wu, and Yinan Zhao
Before it's here, it's on the Bloomberg Terminal.
LEARN MORE