The Dentist Who Could Thwart U.S. as Global Corruption Cop
by
U.S. orchestrated illegal search in Belize, defendant claims

Case could undermine joint international investigations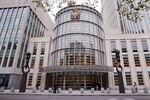 U.S. prosecutors are increasingly reaching beyond the border in probes of bribery, tax-evasion, the rigging of financial benchmarks, even corruption within global soccer. But a dentist accused of money laundering could make such investigations harder to execute.
Robert Bandfield, 71, a U.S. citizen who practiced dentistry in Canada decades ago, is accused of masterminding a $250 million financial fraud in Belize that allegedly sold sham companies to investors from the U.S. and elsewhere to facilitate illegal trading, tax evasion and money laundering. Bandfield denies the claims and says the U.S. should be barred from offering evidence gathered in what he claims was an illegal search of his office in the Central American country.
With his trial set to begin May 31 in Brooklyn, New York, Bandfield argues U.S. agents orchestrated a raid in which Belize police indiscriminately seized records. That would violate the U.S. Constitution's prohibition against unreasonable searches and seizures, he said. If he's successful, his case could create complications in a growing number of cross-border investigations, including the expanding corruption probe into FIFA, soccer's governing body, and a bribery probe into Venezuela's state-owned oil company, Petroleos de Venezuela SA.
A ruling for Bandfield may force U.S. investigators to reconsider how they work with police overseas so prosecutors aren't handcuffed at future trials, said Matthew L. Schwartz, a defense lawyer at Boies Schiller & Flexner LLP.
'Deputize Them'
"You don't get to use foreign officials to evade requirements of the U.S. Constitution," he said. "This becomes a bigger issue the more crime becomes international and authorities coordinate across borders."
How a dentist wound up at the center of an alleged tax evasion and laundering scheme is a curious subtext to a recent U.S. crackdown on so-called incorporators, who allegedly help investors stash money in offshore business structures to avoid taxes or remain anonymous. Bandfield, who has been in jail since his arrest, declined to comment through his lawyer. Family members didn't reply to messages.
Bandfield graduated from dental school in Oregon in 1969 and obtained a license in British Columbia that same year, officials there said. Ward Edwards, a former colleague, said Bandfield framed his U.S. draft notice in his office and was "proud that he got out of the U.S at the time." Amid the Vietnam War, Bandfield became eligible for the draft in 1969 after being on educational deferral for four years, according to records from the National Archives. It is unclear if he received an order to report.
Property Investor
While in Canada, Bandfield dabbled in real-estate investments, said Edwards, who joined his dental practice in 1974. Bandfield sought other physicians to participate in a government program that allowed investors in apartments to write off income. The investment soured when the rental market went soft, said Edwards, who wasn't an investor.
Edwards, who still practices in Prince George, British Columbia, said he and a colleague in 1978 bought out Bandfield, who returned to Oregon. "He didn't want to do dentistry any more," Edwards said.
Bandfield filed for bankruptcy in 1992 in Oregon, according to court records. The year before, he established International Privacy Corporation, which marketed itself as "confidentially providing offshore services since 1991," according to a cached version of its website, which has since been taken down.
By 2013, Bandfield boasted to a potential client -- who happened to be an undercover agent -- that he had incorporated more than 5,000 corporate structures, according to court records. He created "a pyramid" of entities controlled almost entirely by his employees or affiliates to hide his clients' ownership of assets, authorities said in court documents.
'Significant Barriers'
Bandfield used shell companies incorporated in Nevis to hold Belize companies because the law there "imposes significant barriers" on regulators, the Securities and Exchange Commission said in a lawsuit with the allegations similar to the criminal case. A man who worked for Bandfield told the agent it would take about eight years for authorities to identify the true owner behind a entity, the agency said.
"The client 'never controls anything,'" Bandfield told the agent, according to the SEC's complaint. "'Control is a bad word around here.'"
Bandfield was arrested in Miami on Sept. 9, 2014. That same day, police in Belize raided his office and hauled off more than 200 cartons of records -- or, as defense lawyers said, "virtually everything that was not nailed to the floor." The records were later given to American prosecutors, the lawyers said.
Substantial Role
The search is now part of Bandfield's attack on the U.S. case. In court filings, Bandfield said evidence shows the U.S. played a substantial role coordinating what he says was an illegal search in Belize and that U.S. prosecutors are refusing to turn over documents to bolster his claim.
At a hearing last month, the FBI agent who oversaw the case, Thomas McGuire, said he wasn't involved in the search in Belize and didn't see documents until he later traveled there. But Bandfield's lawyers say in filings that e-mails from days before the search indicate that McGuire and other U.S. officials knew it was about to occur.
U.S. District Judge Leo Glasser is now weighing a claim by Bandfield's attorney, Eugene Ingoglia, that the breadth of the search exceeded what would be allowed under U.S. law. Prosecutors said the raid did not violate Bandfield's rights and that U.S. agents weren't involved.
Bandfield's case is among the first to challenge tactics used by overseas investigators. Earlier this year, a federal judge in Manhattan upheld the convictions of two ex-Rabobank Groep traders who complained that evidence gathered by British investigators had tainted the U.S. case. He disagreed.
Bandfield has a high hurdle before him. Under the so-called international silver platter doctrine, evidence gathered by foreign governments through means that would violate the Constitution can still be admissible in an American case if handed over "on a silver platter" -- meaning collected without U.S involvement, lawyers said.
The only exceptions are conduct by a foreign government that "shocks the conscience," such as torture, or if the U.S. directs an illegal search. Otherwise, said Andrew S. Boutros, a former federal prosecutor now at Seyfarth Shaw LLP, "the evidence is coming in."
Before it's here, it's on the Bloomberg Terminal.
LEARN MORE