Cars
Give the Porsche Macan a Chance. It's Not Just a Teenier Cayenne
Porsche's smaller luxury crossover handles the road with tenacity and power, laying claim to many of the best parts of its more expensive siblings.
by
Much has been said about grit lately. It's the idea that success comes from some combination of practice, passion, determination, and hope; the combination is called grit.
Cars can have it, too. It's the x-factor that makes little rally racers so fun to drive, the enigmatic thing that makes some sports cars seem plucky while others feel numb.
The 2016 Porsche Macan S has grit. It's not a perfect car—expensive and small for a crossover, with a polarizing body style—but when it comes to gripping corners, thrusting into tight traffic, and ripping around town, the Cayenne's cute little brother more than proves its mettle.
A Fresh Face for Four
This is the smaller version of the Cayenne that Porsche debuted in 2015. It's based on the Audi Q5 (both are made by parent company Volkswagen AG) but has enough of Porsche's excellent interior, infotainment, and options that it belongs squarely in the Porsche-lovers club.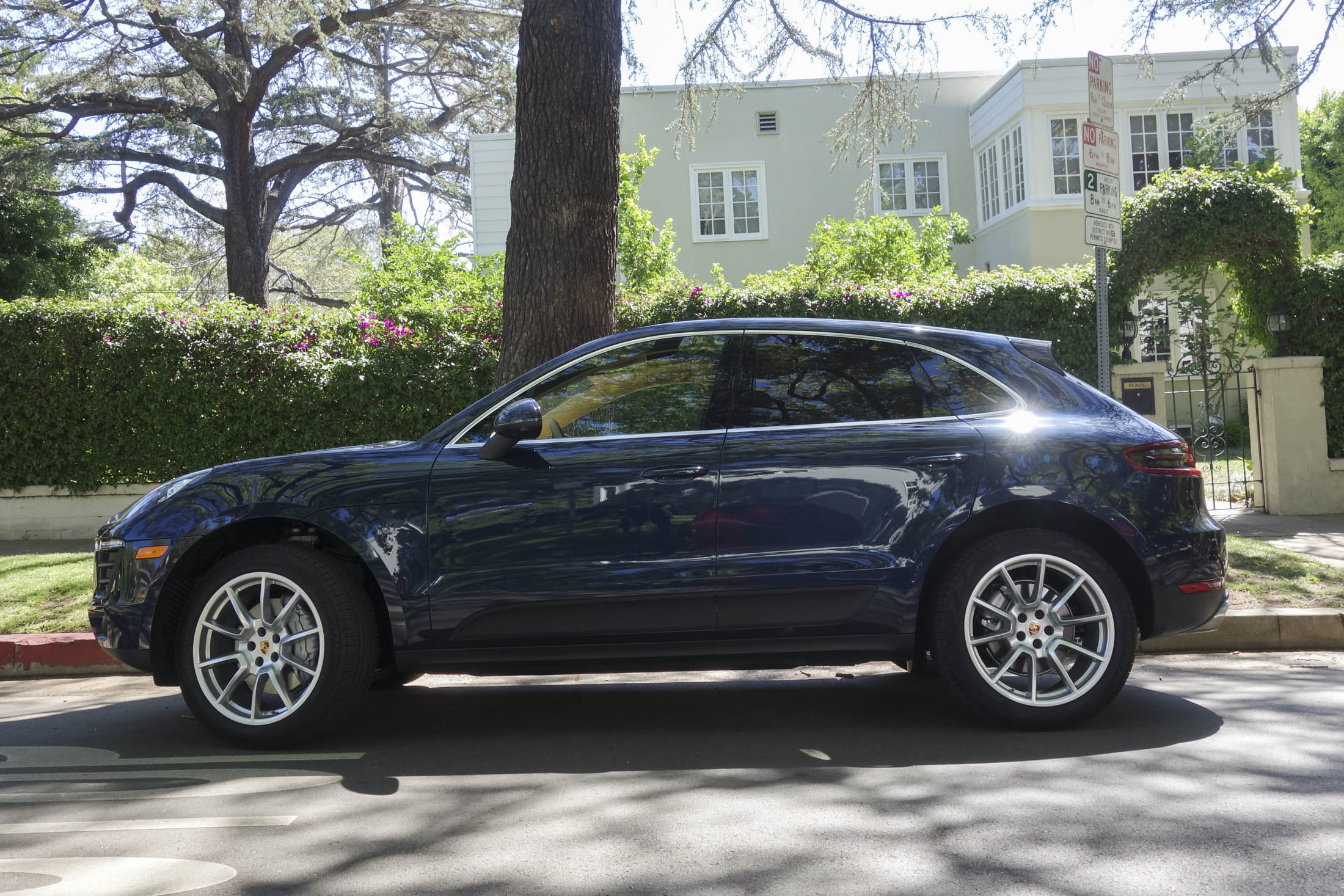 The one I drove recently for a week in Los Angeles cost $68,245, which included such optional upgrades as 20-inch sport wheels ($1,260), a heated sport steering wheel in dark walnut ($615), and park assist ($850). The base Macan S starts at $52,600.
You could cross-shop this car against the BMW X3 and the Mercedes GLC Class, or even against the upcoming Jaguar F-Pace. This is one level more expensive (excepting the Jag) and smaller, which is not necessarily a bad thing but something to note. (Four adults fit in here better than the as-advertised five; if you need seating for five, buy the Cayenne.) It is significantly faster than all of those other small SUVs, though. And it's the most distinctive-looking of the lot.
In the middle of my week with the Macan, I took a Tesla Model X for a short trip north. It was an eye-opener. But the reason I mention it is because when I finally got back into the Macan, I breathed a sigh of relief. Owning and driving a Tesla is a lifestyle choice; I, for one, felt happy to be in a "regular" analog car again, one with a proper seven-speed PDK dual-clutch transmission and an all-wheel-drive system that gripped the road like a monkey. The Macan, with its sporty, eager driving feel, was the perfect fallback.
Sturdy and Nimble
Driving the Macan S is simple and easy. This car does not posture or try to be something it is not. The 18-way-adjustable sport seats ($370) place you high up enough over the road to provide the benefit of feeling more dominant, but the short wheelbase (110 inches, compared to 113 in the Cayenne), compact styling, and canny handling make it as manageable as a sport sedan.

It comes with a 340-horsepower, 3.0-liter twin-turbo V6 engine that gets 339 pounds-feet of torque on a seven-speed dual-clutch transmission. Zero to 60 miles per hour is 5.0 seconds, which is fine. Top speed is 156mph. By comparison, the standard $76,200 Cayenne posts 0-60mph in 5.1 seconds, with a top speed of 161mph. Each get 17 miles per gallon, combined. I don't need a lot of extra space, and I like the Macan's stats better; if you feel the same way, don't spend additional money on the bigger car.
More important to most owners, the Macan S has all the ingenious, adaptable stability systems that Porsche has perfected fleet-wide. Adaptive air suspension smooths the ride as you accelerate and will raise or lower the car as needed. (There are 9 inches of ground clearance at rest.) Traction control keeps the car in line as you drive over unstable roads. Torque vectoring moves the Macan S easily from side to side. The electronic locking differential across the rear axle targets exactly where it's best to send engine power. All that adds up to a nice little crossover that you feel is well-in-hand as you drive. 
A Porsche on the Inside
Porsche has appointed inside the same triple-gauge instrument cluster and button-filled dashboard that are in its other cars, with enough cup holders and storage compartments to satisfy most casual suburban types. (This is a big concession, considering that at one time the stridently racing-focused company refused to offer even one cup holder in its 911 range.) That said, when you face the dash in the Macan, it has the same general compact but three-dimensional feel as that of a classic sports car.

Headroom and legroom inside aren't particular generous, but they're about what you would expect from a small luxury crossover. The rear trunk will accommodate weekend bags for four passengers, as long as they pack more like, say, Holly Golightly than Elizabeth Taylor. There's no wind noise to speak of, even when cruising at 80mph.
A quick and efficient Bluetooth system, rain-sensing wipers, and remote entry all come standard. Ambient lighting ($325) and the beautiful walnut interior package ($550) cost extra. So does the full infotainment system, which includes complete rear-seat entertainment ($3,115 for two high-resolution, 10.1-inch color touchscreens, each with a DVD drive, two USB interfaces, an SD card interface, an HDMI interface, an internal 32-gigabyte flash memory, and Internet access) and the dark blue metallic paint ($690) I enjoyed. Only white and black models come free of charge; they look rather pedestrian.
Kid Brother Good Looks
Then again, if you buy the Macan S, you're already making a step toward nonconformity. (Conformity's Exhibit A: the Audi Q5.) Set off by the recessed bi-xenon headlamps and auto-adjusting daytime running LED headlights at the front, as well as by Porsche's distinct grille of gaping lateral slats, the Macan S is Robin to the Cayenne's Batman. It's younger, with a more visual verve, shaped with a short, rounded hood and a happy little uplift at the end. And it's more unique than the generally bland, rounded crossovers the market tends to offer. It feels short but energetic.

The sideblades along the body pay homage to the 918 Spyder and help the doors look narrower and sleeker than they might otherwise seem. They're available in matte black, lava black, gloss black, and carbon fiber, although I prefer them to be the same color as the rest of the vehicle. I would definitely choose the largest wheels you can afford.
You can also add gear racks, a panoramic sunroof, privacy glass, and rolling automatic sunblinds. I like all the extras; rather than clutter, they make this car in particular feel it's your own.
After all, a little showing off isn't bad: Such aesthetic extras as the 21-inch optional wheels simply communicate, in physical form, the grit we already know exists under the hood.
Before it's here, it's on the Bloomberg Terminal.
LEARN MORE