U.S. Curve Near Flattest Since 2007 Says Recession Risk to HSBC
by
Fed wants to raise interest rates but can't, says HSBC's Major

BofA's index shows global bond yields hit record low last week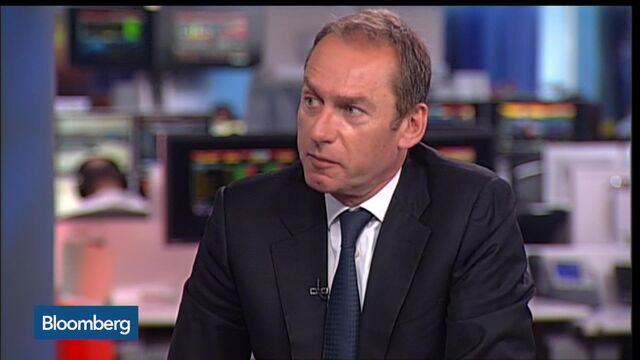 The yield difference, or spread, between Treasury 10-year notes and two-year securities held near its lowest closing level in 8 1/2 years as a muted global inflation outlook encouraged investors to take more risk in the form of longer-dated government debt.
While Federal Reserve Bank of San Francisco President John Williams said Friday that two or three interest-rate increases this year still make sense, Steve Major, head of fixed-income research at HSBC Holdings Plc, said that the market is signaling a risk of recession through the so-called flatter yield curve. The inflation rate in all Group-of-Seven countries is below targets set by their central banks.
Major correctly predicted in 2014 that 10-year yields would drop to about 2.1 percent by the year-end while others on average called for yields to approach 4 percent. He sees the yield dropping to 1.50 percent this year.

"The yield curve itself signals that things are not good looking into the future and talking about recession risk," Major said in an interview on Bloomberg Television's "On the Move" with Guy Johnson. "The market is now ready for a long, long time with very low rates and it's been painful because people have been expecting the Fed to do what it said it was going to do. The Fed really wants to hike rates but can't."
Government bonds are surging around the world as investors scale back forecasts on when the Fed will next raise U.S. interest rates, with inflation falling short of its target. Lower yields elsewhere also pushed investors into U.S. long-dated government bonds for higher returns, Major said. Central banks in Europe and Japan are using negative rates to battle deflation. The average yield on the bonds in the Bank of America Corp. Global Broad Market Index slid to an all-time low of 1.27 percent last week.
The market currently sees a 53 percent chance the Fed will raise interest rates this year, compared with odds of 93 percent at the start of the year, according to data based on fed fund futures compiled by Bloomberg. The calculation assumes the effective fed funds rate will average 0.625 percent after the central bank's next increase.
The benchmark Treasury 10-year note yield rose three basis points, or 0.03 percentage point, to 1.73 percent as of 9:01 a.m. in New York. The 1.625 percent security due in May 2026 fell 9/32, or $2.81 per $1,000 face amount, to 99 1/32.
The yield on two-year notes increased three basis points to 0.78 percent, leaving the spread with 10-year securities at 95.3 basis points. That's less than a basis point away from 95 reached on Friday, the lowest on a closing-price basis since December 2007. HSBC's forecast is for the spread to be at around 100 basis points by the end of the year.
"I'm worried about how far that curve has gone because as I am more on the steepening camp at the moment, I think this is probably too much too soon," Major said.
Fed officials' next policy meeting is scheduled for June 14-15. Minutes of their April 26-27 gathering will be released on Wednesday.
Before it's here, it's on the Bloomberg Terminal.
LEARN MORE