The Race for the Wood Skyscraper Starts Here
Right now it's more like 125 workers gluing boards together in Oregon. Here's how they get to a 100-story tower of timber.
By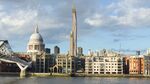 At a newly renovated plant in Riddle, Ore., workers glue together boards harvested from nearby forests, where Douglas fir has grown for thousands of years, and feed the resulting 10-by-30-foot panels into a pneumatic press.