The ECB Is Finding There's a New Zero-Lower Bound for Rates
Corporate debt yields have been sticky around zero, says Deutsche Bank.
by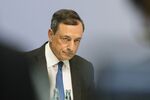 John Maynard Keynes famously argued that nominal wages tend to be sticky downward—that is, people are unwilling to accept pay cuts.
Amid billions of euros in corporate debt purchases, the European Central Bank may find that borrowing costs are also sticky downward, and at around zero—revealing a potential constraint on monetary policymakers' ability to reflate the euro-zone economy.
"The evidence since [the ECB's meeting on] March 10 remains one of spread and yield resistance at the front end," writes Deutsche Bank AG Strategist Nick Burns. "The majority of bonds are actually trading wrapped around zero, perhaps reflecting some resistance to bidding for bonds on a negative yield."

Though it hasn't actually started yet, the central bank's Corporate Sector Purchase Program, or CSPP, has been successful in preemptively lowering yields and tightening spreads, however.
But the increase in investment-grade debt with a sub-zero yield since the ECB's March meeting has been fueled primarily by bonds at the lower-quality end of the spectrum, Burns notes, while longer-dated debt has seen a larger rally in the wake of the CSPP's unveiling.

Corporate bond purchases are intended to push investors into even riskier asset classes by both displacement and by reducing the amount of income generated, prompting them to "search for yield" elsewhere.
To the extent that market participants are unwilling to purchase debt with a negative yield, it represents a success story for Draghi & Co.—so long as those same investors are rebalancing their portfolios into longer-dated or riskier assets. It turns out, however, that there's a limit on just how attractive the ECB can make corporate borrowing.
"For now, it seems there is some resistance to a big push in corporate yields below zero (especially on the bid side), but this might be as much to do with what the ECB signaled in March as much as an ideological barrier," the strategist wrote.
The ECB is only willing to buy debt that doesn't have a lower yield than the deposit rate, currently at -0.4 percent, and doesn't appear to have much of an appetite to cut this rate much further below zero.
"For now there is a quasi-zero bound for corporates," concludes Burns.
But how material a breakdown in the transmission mechanism is this?
As Bank of America Merrill Lynch strategists led by Barnaby Martin point out in their own research, lowering corporate borrowing costs through central bank asset purchases is primarily a means to an end.
The portfolio rebalancing channel is but one way that the ECB's stimulus is expected to support economic activity. European corporate releveraging—as their U.S. peers did amid the Federal Reserve's multiple stints of asset purchases—is a much more powerful avenue by which this monetary accommodation can become a "self-fulfilling success," according to BofAML.
"In due course, the CSPP's effectiveness will be based on whether it encourages corporate 'animal spirits,'" the strategists write. "More bond issuance would mean the ECB could acquire more assets … supporting the inflation outlook … and thus stimulating more corporate releveraging … and bond issuance."
Before it's here, it's on the Bloomberg Terminal.
LEARN MORE