Temer Says Delivering Results Key to Winning Over Brazilians
by and
Temer says will not run for president in 2018 elections

Announcement of economic team said to be postponed to Tuesday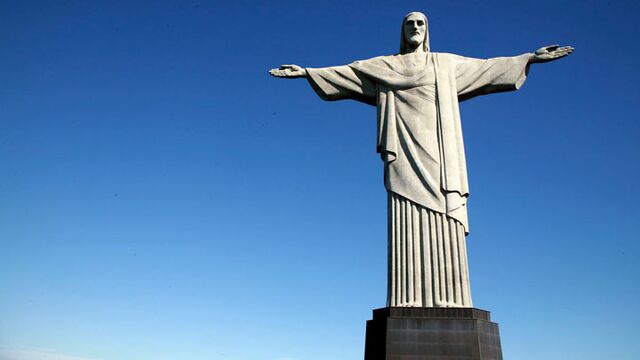 Brazil's Acting President Michel Temer said he will only gain popular recognition if he produces tangible results for the population, while pledging not to run for the country's top job in the 2018 election.
"I realize I lack popular recognition," he said in an interview Sunday evening on Globo Television. That will only come "if I produce results for the country. I believe and expect we can do that."
His comments come as many Brazilians have mixed feelings about Temer's taking office. Polls show he's nearly as unpopular as the suspended President Dilma Rousseff.
Temer, 75, assumed the presidency last week when the Senate voted to put Rousseff on trial for allegedly doctoring the federal budget. The chamber has six months to decide whether to permanently terminate her mandate. Rousseff denies wrongdoing and accuses Temer of orchestrating her ouster. Many of her supporters call him a coup monger, and residents of some neighborhoods in Sao Paulo, the country's largest city, could be heard jeering Temer during the airing of his interview on Sunday.
Temer said he probably won't run for another term in 2018 elections, and instead will focus his efforts on reviving the economy and pacifying a country that has grown increasingly polarized.
"I don't need to make political gestures or take steps to get re-elected," he said. "I can even be unpopular so to speak, because so long as I produce benefits for the country, that's good enough for me."
Spending Cuts
A constitutional lawyer and career politician, Temer quickly put in place a cabinet last week that includes former Wall Street banker Henrique Meirelles as his finance minister. Meirelles was expected to appoint on Monday a nominee to run Brazil's central bank but has delayed that announcement to Tuesday, newspaper Valor Economico reported without naming its source. Current central bank chief Alexandre Tombini has struggled throughout Rousseff's five years in office to cool inflation.
Temer and Meirelles, who spoke on the same Globo TV program Sunday night, said they will reduce expenditures where they can to shrink the budget deficit and help contain consumer prices, while preserving welfare programs that protect the most vulnerable. Temer said his administration will fire as many as 5,000 civil servants to contain spending.
Brazilian assets surged in recent months amid optimism that a new administration could pull the country out of a crushing recession. The real and the Sao Paulo stock index retreated at the end of the week after Meirelles refrained from giving details on his strategy. While he didn't provide specifics on Sunday, he said the government may have to temporarily raise taxes to shore up fiscal accounts and revive confidence.
"We need to get the economy back on track," he said.
Before it's here, it's on the Bloomberg Terminal.
LEARN MORE