Telstra Adds Autohome Board Seat to Help in Sale to Ping An
Bloomberg News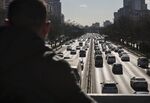 Telstra Corp., facing opposition from managers of a Chinese website it's seeking to sell, added a director to Autohome Inc.'s board to help it push through the sale of a 48 percent stake in the company to Ping An Insurance Group Co.
Telstra, which had five of 10 board seats at Autohome, appointed a sixth director on Friday ahead of a board meeting that day, spokeswoman Nicole McKechnie said by phone on Monday. McKechnie said the board was properly convened and declined to provide further details.
The move is the latest twist in what's emerging as a rare public feud between a Chinese company's management and its foreign parent. The management group, led by Chief Executive Officer James Qin, has been seeking to scuttle the deal by making a rival bid to buy out the company at a higher price than what Ping An offered.
Representatives at Autohome and its management buyout group either declined to comment or weren't available to comment.
Autohome CEO, Trying to Repel Ping An, Makes Case for Buyout
Autohome's American depositary receipts slipped 18 percent through Friday since Telstra and Ping An said their deal was binding, damping speculation that a bidding contest will occur.
The receipts rose 2.2 percent to $25.35 at 9:44 a.m. New York time on Monday after gaining as much as 2.7 percent, the most intraday since April 15. The price is still below the management-led group's $31.50-a-share offer and Ping An's $29.55 proposal.
— With assistance by David Ramli, and Tian Ying
Before it's here, it's on the Bloomberg Terminal.
LEARN MORE