A Digital Dive Into Rio de Janeiro's Past
A Rice University mapping project seeks to illustrate "the social and urban evolution" of the city since its birth.
By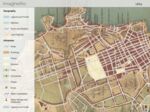 Rio de Janeiro is "a city of multiple and contradictory layers, at once exposed and hidden by its beauty and complex topography," writes Sandra Jovchelovitch, a professor at the London School of Economics and Political Science. What she means is that, on one hand, this dense Brazilian city boasts some world's most iconic architecture and monuments—it's a cidade maravilhosa or "marvelous city," as Uri Friedman notes. On the other, it's home to a sea of favelas—urban shantytowns ridden with poverty and lawlessness that are the most visible evidence of the city's acute inequalities.
But how did it come to be this way? That's what a new mapping project by Rice University seeks to illustrate. "The platform imagineRio is a searchable atlas that illustrates the social and urban evolution of Rio de Janeiro over the entire history of the city, as it existed and as it was often imagined," the project's description reads.
The main map is laid over a timeline spanning from 1500 to 2016, and incorporates urban projects, city plans, and architectural sketches of the city and its various components that were created along the way. Here's a screenshot of the city overlaid with a city plan from 1869, for example:

And here's one from 1923. Clicking on any one site on the map brings up more details about it:

The creators also added in images that visiting artists had made of the city. "Every image that we could geolocate, we geolocated,"Alida Metcalf, the chair of the history department and one of the forces behind the platform, told a Rice University news blog in 2015. "Once you geolocate the image, you click on the map and see what the artist saw—kind of like time travel."
Rio's urban history is particularly suited to this kind of digital treatment, according to imagineRio's creators:
To make Rio what it is today, mountains were leveled, swamps drained, shorelines redrawn, ridgelines altered, and islands joined to the mainland, while the adjacent Tijuca Forest was first cleared for planting coffee and extracting charcoal only to later be replanted for the protection of the city's water sources. Such a changing physical and social landscape, with all its political consequences, lends itself to being spatially contextualized in a digital platform that maps and illustrates transformation over time.
The platform is a pretty cool way for historians, literary scholars, cartographers, architects, urbanists, tourists, and even locals to explore Rio in the context of its rich and complex urban history. Take a trip back in time here.