Naira Forwards Jump by Record as Traders See Nigeria Devaluation
by
Currency peg in place since March 2015 seen under strain

Pressure grows as oil production falls, says Global Evolution
Naira forwards surged by the most on record as traders bet that the ability of Nigerian authorities to maintain their almost 15-month-long currency peg is waning.
Three-month naira non-deliverable forwards rose by 14 percent, the most on a closing basis since the contracts began trading in March 2011, to a record 267 against the dollar at 4:06 p.m. in London. One-month forwards jumped 11 percent to 238, bringing their implied yield -- the annualized amount that investors would get if they bought the contract and there was no change in the spot price at the end of the period -- to 217 percent, also a record. Contracts maturing in a year climbed 5.7 percent to 314, suggesting a 58 percent drop in the naira from the interbank rate of 199.05 per dollar.
While Nigeria has held the naira at 197-199 since March 2015, even as falling oil prices cause government revenue and export earnings to plunge, Vice President Yemi Osinbajo announced a review of the currency regime on May 11 that "may feature" a devaluation. That was a shift from recent comments by President Muhammadu Buhari and came on the same day the government allowed fuel importers to buy foreign-exchange on the black market, rather than just from the central bank and oil companies. The unofficial rate weakened to about 360 to the dollar on Monday from 320 a week ago.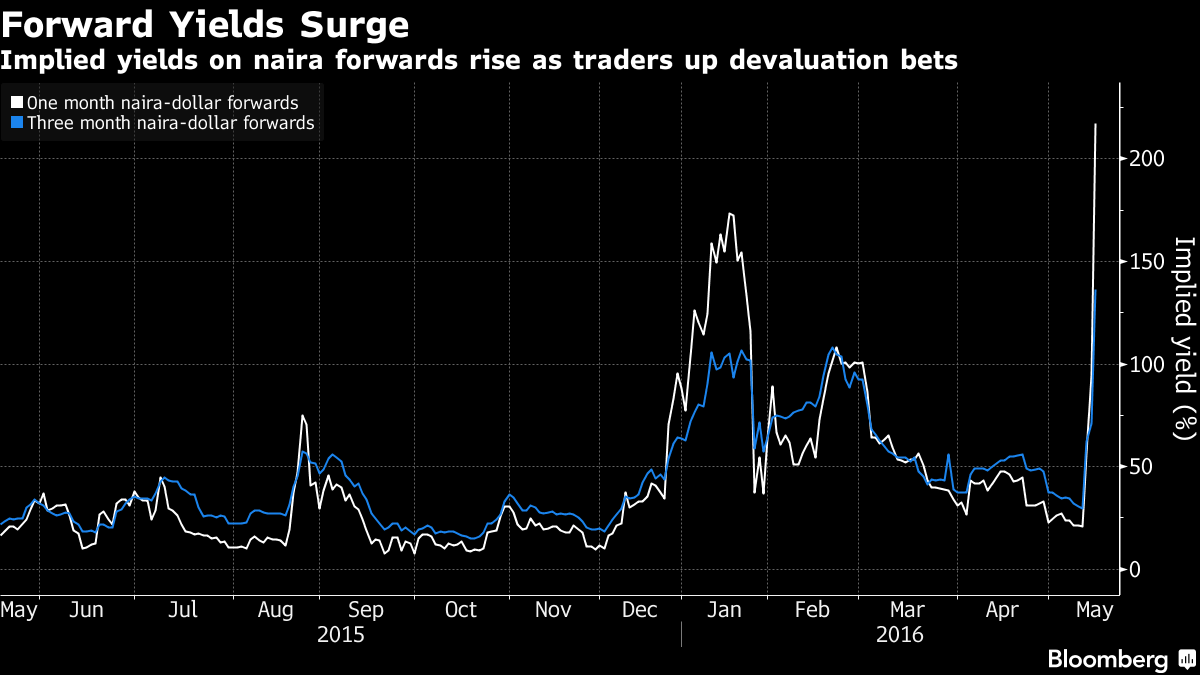 The currency fix has come under increasing pressure as dollar shortages in Nigeria mount, with oil output falling to around 1.4 million barrels a day from 2 million in January because of attacks on production facilities in the Niger River delta, according to Stephen Bailey-Smith, a strategist at Denmark's Global Evolution Fonds A/S.
"What made the NDFs move was the hike in the petrol price and Osinbajo's comments," Bailey-Smith said. Global Evolution has about $2.5 billion invested in more than 60 emerging and frontier countries. "That made the market believe a devaluation was imminent. We've been here before, but it seems there's more pressure now because of the fall in oil production. We're back to a question of when, not if, they devalue."
Three-month forwards have jumped 25 percent from 214 on May 11, while 12-month contracts have soared 16 percent.
Investors from AllianceBernstein LP to Morgan Stanley have sold naira stocks and bonds since Nigeria's central bank started pegging the currency and introducing capital controls, which include restrictions on foreign-exchange trading and imports. Naira-denominated government bonds have lost 8.8 percent this year, making them the only ones not to have have gained among 31 emerging markets tracked by Bloomberg.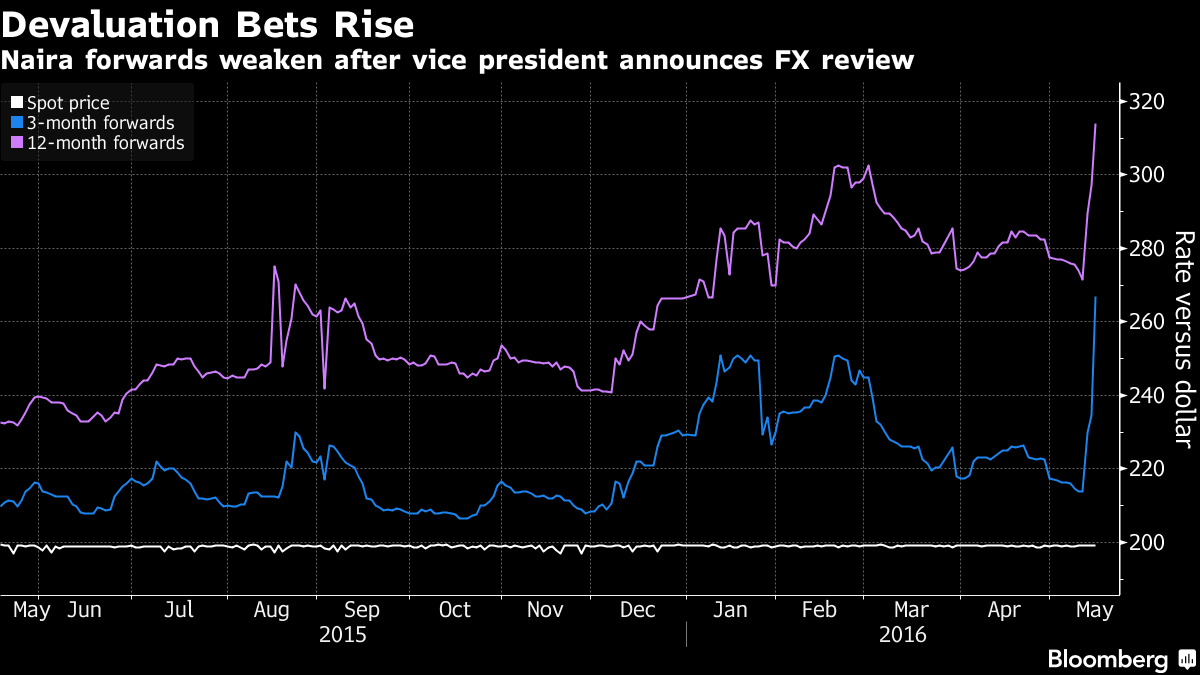 The move to allow fuel retailers access to the unofficial currency market "signals greater FX flexibility," JF Ruhashyankiko, a Goldman Sachs Group Inc. economist in London, said in an e-mailed note. "This move is likely to lead to a restoration of partially allotted multiple exchange rates, but it is less clear whether it will also lead to a gradual lifting of capital controls. The only way to resume capital inflows is to lift the capital controls."
Before it's here, it's on the Bloomberg Terminal.
LEARN MORE