Lonmin Turns Cash-Positive as Cost Cuts Meet Higher Platinum
by and
World's no. 3 platinum miner has cut 5,400 jobs to stay alive

Company begins wage negotiations with unions later this year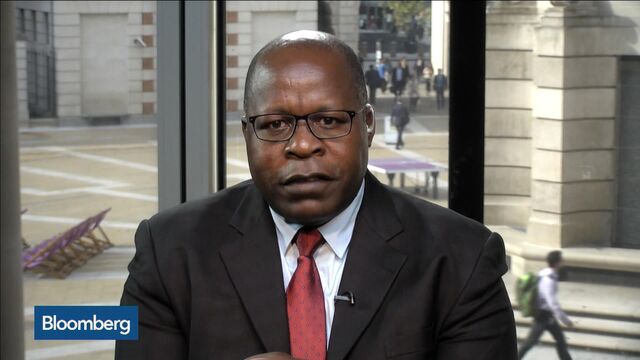 Lonmin Plc, the world's third-largest platinum miner, said it was cash-positive in the first half of the year as it implements a cost-cutting plan to save the business. The shares rallied the most in two months.
Net cash was $114 million at March 31, compared with net debt of $185 million at Sept. 30, the Johannesburg-based company said in a statement Monday. Even so, the producer made a loss of 1.8 cents per share in the half year, compared with a $1.65 loss a year earlier due to asset depreciation.
"The good ship Lonmin is showing signs of gradually being turned around, but it will be heavily dependent on having favorable platinum group metal price and foreign exchange winds in its sails in order to go anywhere fast," Yuen Low, a mining analyst at Shore Capital Stockbrokers Ltd., wrote in a note.
Lonmin, with the highest costs of the world's three major platinum producers, was bailed out last year by shareholders, who injected $400 million as the company sought to survive a 40 percent drop in the price of the precious metal since 2011. Lonmin has been cutting costs and trimmed more than 5,400 jobs in an attempt to become profitable once again.
Shares Surge
The stock climbed as much as 20 percent in London, the most since March 7, and was 18 percent higher at 191.75 pence a share at 11:33 a.m. It has climbed 86 percent since the new shares began trading on Dec. 11, valuing the company at about $776 million.
"It's still tough out there but we've cut costs and improved cash," Chief Executive Officer Ben Magara said in an interview with Bloomberg Television. "We have to continue to manage what we can control."
Platinum has climbed 19 percent this year to $1,057.62 an ounce, following a precious-metal rally and a shortfall in supply. The basket price of platinum-group metals has climbed 15 percent to 13,913 rand an ounce.
By comparison, Lonmin's production costs were 10,668 rand an ounce in the first half and are forecast to be 10,400 rand for the full year. The company reduced its forecast for capital expenditure for the full year to $105 million from $132 million.
Wage negotiations with unions are scheduled to take place later this year, which may boost costs, Magara said. The last time negotiations took place they resulted in a record-long five-month strike.
Magara said he's "cautiously optimistic" on talks because the company has invested time in explaining the "economic realities" of the company and the industry to workers.
Before it's here, it's on the Bloomberg Terminal.
LEARN MORE