Johnson Says EU Like Bad Underwear as Brexit Bus Tour Moves On
by
Comparison follows Hitler comments in newspaper interview

Ex-mayor is star attraction of campaign to quit 28-nation bloc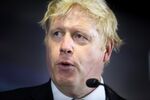 Factory worker Pauline Shirley was undecided how to vote in the U.K.'s referendum on European Union membership shortly before noon on Monday. A quarter of an hour later, she was firmly behind the campaign for a so-called Brexit after a visit from former London Mayor Boris Johnson, who likened the bloc to a "badly designed undergarment."
"I'm not sitting on the fence any more," Shirley, 54, said in an interview at the factory of ladies' clothing manufacturer David Nieper Ltd. in Alfreton, central England. "I've heard what I need to hear. He's a very strong character."
With polls showing the result of the June 23 referendum may be tight, the "Leave" campaign is relying on the star power of Johnson, known to the British public simply as Boris, to wrest control of the debate. The 'Remain' camp headed by Prime Minister David Cameron has lined up support ranging from U.S. President Barack Obama to Bank of England Governor Mark Carney, with Ryanair Holdings Plc Chief Executive Officer Michael O'Leary warning on Monday air fares will rise if Britain leaves the EU.
"When you look at the EU now, it makes me think of some badly designed undergarment that has now become too tight in some places, far too tight, far too constricted, and dangerously loose in other places," Johnson said as he addressed about 200 workers. "Let's take back control of huge sums of money, take back control of immigration, take back control of our democracy."
Hitler Interview


It marked a change of tone from Sunday, when Johnson hit the headlines with a Telegraph newspaper interview in which he invoked Adolf Hitler, saying the EU was an attempt to unify Europe under a single government "by different methods" to the Nazi leader's.
"It's very important that we should continue to point out that the EU is fundamentally antidemocratic and getting less and less democratic," Johnson told reporters Monday.
Johnson is the main attraction on the Brexit campaign bus tour that started last week in southwest England. It moved to the Midlands on Monday, visiting David Nieper and then building-supplies company John A. Stephens Ltd. in an effort to show that there are plenty of small and medium-sized businesses that would thrive outside the 28-nation EU, even as larger companies favor the status quo.
At the clothing manufacturer, Johnson sewed a few stitches into a Vote Leave banner before ironing another, saying: "We are going to flatten our opponents."
'Lot of Sense'
Johnson's address was enough to convert Shirley, while her co-worker Michelle Tryner, 56, remarked that "he speaks a lot of sense."
Johnson also took a shot at officials who have pronounced on the potential negative effects of a Brexit, including Carney and International Monetary Fund Managing Director Christine Lagarde.
"I say to all those who prophesy gloom and doom for British business, I say their pants are on fire and if they want a new pair, this is the place to come," he said. "Knickers to the pessimists. Knickers to all those who talk Britain down."
Johnson found support at the builder's merchant in Nottingham too, with one worker, John Muse, saying he'd "definitely" vote out. The former mayor's argument wasn't enough for everybody, though.
"I'm not necessarily persuaded," said Emma Lowe, 43, who'd dropped in to buy some paving stones when she was approached by Johnson. "I need to read both sides of the argument."
Before it's here, it's on the Bloomberg Terminal.
LEARN MORE