Meirelles Fans Would Do Well to Remember Brazil's 2015 Bond Bust
By
Levy, heralded as a savior, left bond investors with losses

Meirelles won investor plaudits as Brazil's central bank chief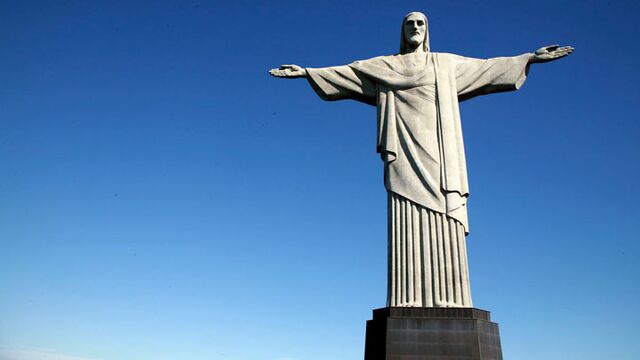 Less than a year ago, Brazil's Michel Temer compared then-Finance Minister Joaquim Levy to Jesus Christ. Now, Temer is acting president and his newly appointed finance minister is already being hailed as the economy's potential savior. Investors may want to be wary.
Those who believe former central bank chief Henrique Meirelles is well positioned to help pull Brazil out of its worst recession in a century need only look back a year to realize the perils of putting too much trust in any one man. Levy took office in January 2015 amid confidence that he could fix Brazil's economy. That didn't work out, and the country's dollar-denominated bonds lost 17 percent during his 11-month tenure.

Regaining investors' trust is a key goal for Temer, who assumed the presidency on May 12 after a Senate vote that brought Dilma Rousseff closer to impeachment and forced her to step down. Temer appointed Meirelles within hours of taking over, betting that the former BankBoston Corp. executive and president of Brazil's central bank during the country's boom in the 2000s will be able to convince investors the government is serious about shoring up fiscal accounts, damping inflation and restoring growth.

"No matter how strong and how dedicated Levy was, there were forces beyond his control that didn't allow him to deliver," said Alberto Ramos, the chief Latin America economist at Goldman Sachs Group Inc. "If the political bickering doesn't go away, if governability conditions remain weak, if we see hesitations or difficulties in moving forward with the policy agenda, the market will not respond well."
After her re-election in 2014, Rousseff tapped Levy amid investor concern that the country's shaky finances were putting its investment-grade credit rating at risk. A former asset manager at Banco Bradesco SA, he had earned the nickname "Scissorhands" for his tough budget-cutting policies. Within months, however, it was clear his efforts to implement a fiscal adjustment were hitting repeated roadblocks in a fractured Congress. Before a party meeting in June 2015, Rousseff said Levy shouldn't be cast as a Judas. Then Vice President Temer followed by saying that Levy "has to be treated like Christ, who suffered a lot."
His relentless push to curtail labor and pension benefits elicited scorn from many members of the ruling Workers' Party, which traditionally championed a robust social safety net. In six months, Brazil was cut to junk and Levy resigned.
His technocratic disposition was the reason he failed, whereas Meirelles knows how to get things done in Brasilia, according to Edwin Gutierrez, the head of emerging-market sovereign debt at Aberdeen Asset Management in London, who oversees an $11 billion portfolio.
Meirelles is a more experienced political operator, said Joao Augusto de Castro Neves, Latin America director in Washington for political-risk consultant Eurasia Group. But the situation now is more difficult, with slower growth, sharper political polarization and a greater chance for protests and general strikes, which may make his path even harder, according to de Castro Neves. Brazil's gross domestic product contracted 3.8 percent last year and is forecast to shrink another 3.7 percent this year. Inflation is hovering near 10 percent.
"The bar is a bit higher now," de Castro Neves said. "Meirelles does have more political backing from the president, but he's a little bit deeper into that hole."
Since Brazil's lower house voted in favor of ousting Rousseff, the country's bonds have returned 1.1 percent, beating the emerging-market average.
In his first press conference as finance minister, Meirelles said Temer's team is in a hurry to fix the economy, but the administration needs to propose measures that have a good chance of congressional approval.
"The country is waiting for a change in course," Meirelles told reporters on May 13. "There's been a whole cycle of deterioration in the economy. We need to signal a reversal of this."
Rousseff's presidency was suspended over accusations she delayed payments to state banks to mask a growing budget deficit, a violation of the fiscal-responsibility law. Payment of those debts created the highest nominal deficit in more than 20 years and revealed the true magnitude of the fiscal woes.
Anticipating the change in government, investors have sent the country's bonds soaring, made its currency the best performing in the world and bid up prices in the stock market. As Temer's administration announces its ambitious proposals, the market will grow even more bullish on Brazil and then be frustrated by reality, said Aberdeen's Gutierrez.
"The initial reaction will be 'Oh wow, these guys are gonna finally do it; Brazil is gonna be fixed!'" he said. "The disappointment comes later."