Ignoring 29 Buy Calls, Investors Sell Biggest Korean Refiner
by and
Korea's best fund manager sold off shares in refiners

Refining margins in Asia have fallen from January high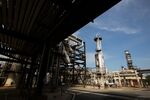 South Korean investors aren't buying analysts' bullish forecasts for earnings of the nation's top refiners, bringing to an end the rally that brought their shares to a three-year high.
"I sold all of my shares in refiners when crude prices were rebounding early this year," said Jung Sang Jin, a fund manager whose Korea Investment Long Term Value Securities Master Investment Trust fund beat 98 percent of peers this year with a return of 5.6 percent. "Their refining margin looks volatile, as commodities would rebound a lot throughout this year."
SK Innovation Co., the biggest Korean refiner that attracted buy ratings from 29 brokerages, and S-Oil Corp., which enjoyed its highest operating margin since 2004 in the first quarter, have both slumped 13 percent from their April peaks. Institutional investors have sold a net $150 million worth of shares in the two companies since April 15. The gaps between the stocks and the analysts' 12-month target prices widened the most in at least three years.
Korean refiners are losing the impact of cheap crude as oil rebounds from the lowest in more than a decade in January. A measure of refining profitability in Asia -- the margin from turning Middle East benchmark Dubai grade into fuels including gasoline and diesel in the regional trading hub of Singapore -- has fallen more than 60 percent from a January high of $9.50 a barrel as of May 12, data compiled by Bloomberg show.
"If oil prices rise further, refining margins would crash from the current level," said Jung, who helps oversees about 37 trillion won ($32 billion) at Korea Investment Management Co.

More than half of SK Innovation's earnings came from petroleum refining in the first quarter, according to  data compiled by Bloomberg Intelligence. For S-Oil, its petroleum refined products division posted a profit of 219 billion won in the first quarter, swinging from a loss in the previous quarter. Both the stocks more than doubled from a January 2015 low to a peak on April 14 this year. 
SK Innovation and S-Oil are valued at more than 8 times their projected 12-month earnings, compared with 10.6 for the benchmark Kospi index. Both stocks are forecast to rise at least by almost a third over 12 months, according to analysts' target prices compiled by Bloomberg. The Kospi was little changed at the close on Tuesday, while SK Innovation and S-Oil rose at least 1.3 percent.
Contrary to investors' concerns, analysts say declining inventory of refined products in the U.S., Europe and Singapore will help boost margins. This "indicates the refining margin is now bottoming out" and is likely to rebound, according to Jae-Sung Yoon, an analyst at Hana Financial Investment, in a report on May 15.

The plunge in crude prices had boosted demand for fuels and allowed refiners to enjoy higher margins and less inventory valuation losses. South Korea, which has the sixth-largest refining capacity in the world, has the ability to increase its refining margins by producing value-added oil products through refinery upgrades which have taken place in recent years. 
The high refining margins in early 2016 prompted many refiners to resume operations of their stalled facilities, leading to an increase in inventory, said Hwang Kyu Won, a Seoul-based analyst at Yuanta Securities Korea, by phone. While the average refining margin was about $12 a barrel in January, it has now dropped to $3.42 a barrel, as of May 12, according to data by Bloomberg.
Oil Rebound
Brent crude rebounded more than 70 percent from its 13-year low on Jan. 20, when it dipped at around $27 a barrel.
Saudi Arabia raised its official selling price for June oil sales to Asia by the most since April 2015, a sign that the world's biggest crude exporter expects demand to recover as the global market re-balances. State-owned Saudi Arabian Oil Co. increased its official selling price for Arab Light crude to Asia by $1.10 a barrel to 25 cents more than regional benchmarks Oman and Dubai.
Concerns still remain on whether the global economy has stabilized, especially in China where industrial production, retail sales and investment in April all trailed estimates, which could weigh on the Korean companies' business.  
"Demand for refined products is unlikely to rise, because the global economy is sagging," Korea Investment's Jung said.
Before it's here, it's on the Bloomberg Terminal.
LEARN MORE