Hugo Boss Promotes Finance Chief to Lead Clothier's Revival
by
Mark Langer has worked at German suitmaker for 13 years

Insider chosen to avoid 'lengthy transition period': analyst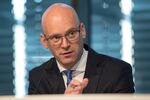 Hugo Boss AG promoted its finance chief to lead a turnaround effort at the embattled German fashion house.
Mark Langer will become both chief executive officer and chairman of the managing board, Metzingen, Germany-based Hugo Boss said in a statement Monday. He succeeds Claus-Dietrich Lahrs, who left earlier this year after a series of profit warnings and a plunge in the shares.
Langer, who joined 13 years ago and became chief financial officer in 2010, will seek to bring stability to a company that this month reported the biggest decline in quarterly profit in at least six years. The German fashion label, best known for men's apparel such as suits and jackets, is paring back the network that Lahrs expanded until rampant cost increases and discounts led him to resign.
The company went with an internal candidate because choosing an outsider "might have led to a lengthy transition period and potentially delay the implementation of time-sensitive strategic decisions aimed at fixing the brand," Citigroup analyst Thomas Chauvet said in a note. Langer represents a "relatively straightforward and plug-and-play decision."
The decision to appoint Langer was made by the company's personnel committee "after careful consideration of different options," Boss said. The choice is expected to be approved by the supervisory board shortly, it said.
"I am convinced that appointing Mark Langer is absolutely the right decision, especially in the current situation," Boss's supervisory board chairman Michel Perraudin said in the statement. "With the actions already taken within the last couple of months, he has acted quickly and shown great determination as well as strategic foresight."
Before it's here, it's on the Bloomberg Terminal.
LEARN MORE