Eton Park Took $422 Million Stake in Gold ETF in First Quarter
by
Mindich joins Paul Singer, Stan Druckenmiller as gold bull

Firm doubled stake in Allergan as Pfizer abandoned merger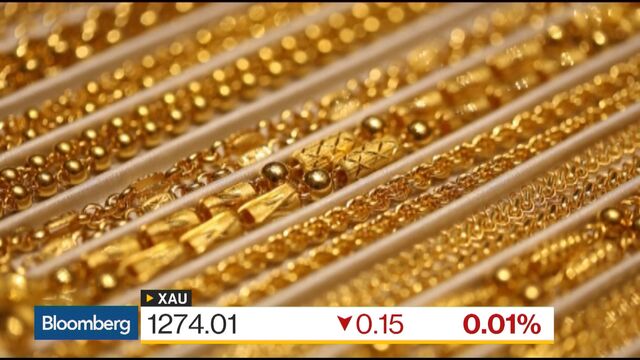 Eton Park Capital Management, the hedge fund firm founded by Eric Mindich, is once again making big bets on the price of gold.
The firm purchased 3.59 million shares of the SPDR Gold Trust during the first quarter for a $422 million stake, a new position, according to a regulatory filing Monday. In addition, the fund bought call options on SPDR Gold Trust shares with a face value of more than $700 million and put option contracts with a notional value of about $617 million, the filing shows.
Mindich joined hedge fund managers Paul Singer and Stan Druckenmiller who are bullish on the metal. Gold for immediate delivery jumped 16 percent in the first three months of the year, the biggest quarterly surge since 1986. Singer has said gold will continue to gain and Druckenmiller earlier this month said gold is his largest currency allocation. The Gold Trust is up almost 20 percent so far this year.
From mid-2008 through the first quarter of 2012, Mindich used the SPDR Gold Trust to make big bets on gold prices, often through the use of options. As of March 31, 2012, the Eton Park funds held 739,117 SPDR Gold shares with a market value of about $119 million and call options on another 9.25 million shares with a face value of almost $1.5 billion
Allergan Position
In other purchases, Eton Park doubled its stake in Allergan Plc in the first quarter, buying about 926,500 shares. The total value of the firm's Allergan position was $502.6 million at March 31. Shares of the Botox-maker fell 14 percent in the quarter as Pfizer Inc. walked away from a $160 billion merger with the company.
Mindich acquired 11.93 million shares of Baxalta with a market value of $482 million at March 31, filings show. The maker of drugs to treat rare diseases agreed to be acquired by Shire Plc in January for $32 billion. The shares gained 3.7 percent including reinvested dividends in the first quarter.
Mindich increased Eton Park's stake in Time Warner Cable to 3.5 million shares as of March 31 from 1.5 million as of Dec. 31. Eton Park cut its holding in Microsoft Corp. to 2.5 million shares as of March 31 from 8.5 million at the end of last year.
Money managers who oversee more than $100 million in equities in the U.S. must file a Form 13F within 45 days of each quarter's end to list those stocks as well as options and convertible bonds. The filings don't show non-U.S. securities, holdings that aren't publicly traded or cash.
Before it's here, it's on the Bloomberg Terminal.
LEARN MORE