business
East Libya Oil Chief Agrees With Rival to Resume Exports
By
Oil exports from Hariga port to ease bottleneck, boost output

East, West National Oil Corp. leaders reach accord in Vienna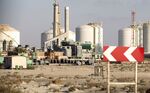 Competing administrations of Libya's state-run National Oil Corp. in the east and west of the divided country agreed to resume exports from Hariga port to help revive the OPEC member's production, according to the NOC East chairman.
Crude exports from the eastern port of Hariga are due to restart within about three days, Nagi Elmagrabi said Monday in a telephone interview. The shipments will ease an export bottleneck and allow for a revival in the nation's crude production, he said. Elmagrabi said the agreement followed talks in Vienna since Sunday with Mustafa Sanalla, chairman of the rival NOC leadership based in the western city of Tripoli.
"We agreed to keep the National Oil Corp. neutral, away from political conflicts," Elmagrabi said.
Libya, with Africa's largest proven crude reserves, broke into two separately governed regions in late 2014, one centered around Tripoli and the other run by an internationally recognized government in the east. The political divisions led to competing NOC administrations in the east and the west. Libyans are currently working with the support of the U.S. and European nations to set up a Government of National Accord.
Unity Government
U.S. Secretary of State John Kerry said after attending talks in the Austrian capital on Monday that only the Libyan unity government can keep the state oil company going and that it must receive full international support. The unity government may be provided with arms to fight terrorism, with approval of the United Nations, he said.
Authorities in the east of the country tried to sell crude independently. A tanker from eastern Libya was forced to return with its cargo after the UN blacklisted the shipment last month. While the country's eastern region holds large crude deposits, it's the NOC leadership in Tripoli in the west that's recognized by traders such as Glencore Plc and Vitol Group as the country's official crude marketer.
Libya pumped about 1.6 million barrels a day of crude before the 2011 uprising that ended Moammar Qaddafi's 42-year rule. After labor strikes and attacks on oil installations, it's now the smallest producer in the Organization of Petroleum Exporting Countries, pumping less than 300,000 barrels a day. 
Benchmark Brent crude traded as much as 1 percent higher on Tuesday, reaching $49.47 a barrel in London.
Libya's unity government was formed under a UN-mediated peace deal last year. The agreement is backed by Western allies as the only way to stem spiraling unrest that has plagued the North African nation and enabled Islamic State to expand along the southern Mediterranean coast.
(
Adds oil price in eighth paragraph; political background in ninth.
)
Before it's here, it's on the Bloomberg Terminal.
LEARN MORE