Five Things You Need to Know to Start Your Day
Get caught up on what's moving markets.
by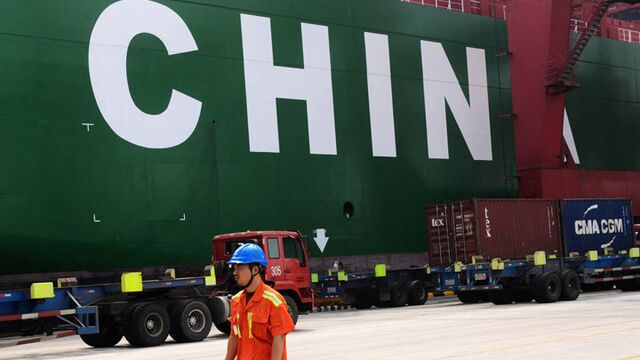 Want to receive this post in your inbox every morning? Sign up here
Disappointing data from China, Goldman raises crude forecast, and equity markets are lower. Here are some of the things people in markets are talking about today.
Chinese data disappoints
Chinese industrial production, retail sales and investment data released over the weekend all missed estimates. Measures of money creation and credit growth also came in shy of expectations. The People's Bank of China, meanwhile, sought to reassure the public that policy would continue to support growth. In the overnight session there were some unusual moves in the Hang Seng China Enterprises Index which tumbled from a 1 percent gain to a 1.5 percent loss over the course of about two minutes before ultimately recovering. The same shares listed on the Shanghai Stock Exchange didn't replicate the move. In other Chinese corporate news, car-hailing service Didi Chuxing is said to be targeting an initial public offering in New York next year. Didi received a $1 billion investment from Apple Inc. last week.
Goldman upgrades oil
Goldman Sachs Group Inc. has upped its price target for crude for the second half of 2016 to $50 a barrel, saying that the global oil market has slipped from a surplus faster than it previously expected. It seems that oil producers are less confident about the path of crude prices as they raise their hedges against a price drop to the highest level in 4 1/2 years. West Texas Intermediate for June delivery increased as much as 93 cents to $47.14 a barrel on the New York Mercantile Exchange, the highest since Nov. 4, and was at $47.09 by 5:52 a.m. ET.
Equities mixed
Overnight in Asia, the MSCI Asia Pacific Index rose 0.5 percent to 126.38, climbing from a one month low following a report that Japanese Prime Minister Shinzo Abe will postpone a sales-tax increase. In Europe, where the German stock exchange is closed for a holiday, the Stoxx 600 Index was 0.4 percent lower at 6:10 a.m ET amid thin trading. S&P 500 futures were 0.1 higher. 
Emerging markets
The Polish zloty headed for its biggest advance in two months after Moody's Investors Service decided not to downgrade the country's credit rating over the weekend. In Turkey, increasing political risks have pushed the market price of companies listed there below the value of their assets for the first time since 2009. Nigeria, which is fast becoming the biggest worry in the global oil market this morning reported inflation accelerating for a sixth consecutive month, to 13.7 percent, the highest pace since 2010. That country's problems are reflected in the bond market - where its yields are now higher than Kenya's local currency debt.
Presidential uncertainty, Brexit
As speculation increases over presumptive Republican nominee Donald Trump's running mate, the market implications of a divisive campaign are receiving more attention. Currency traders are worried that the candidates' positioning on the U.S. dollar will increase volatility for the greenback to levels similar to those seen in the British pound in the run up to the Brexit vote. Campaigning on the U.K. referendum became even more caustic over the weekend when leading 'out' campaigner Boris Johnson invoked Hitler as a parallel with the European Union.
What we've been reading 
This is what's caught our eye over the weekend.
Before it's here, it's on the Bloomberg Terminal.
LEARN MORE