South Africa Presidency Denies Reports of Gordhan Arrest, Ouster
by
Police seek to prosecute Pravin Gordhan, Sunday Times reports

Hawks questioned Gordhan about 'rogue unit' in tax service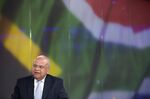 The office of South Africa President Jacob Zuma denied that the finance minister would be arrested or replaced, refuting a Sunday Times report that said a special police unit has sent to prosecutors the docket of its probe into Pravin Gordhan.
The so-called Hawks police unit completed its investigation of Gordhan and eight other former officials over their alleged involvement in a special agency within the national revenue service, the Sunday Times reported. A prosecution may prompt Zuma to replace Gordhan, who ran the service until 2009, with Brian Molefe, chief executive officer of the state-owned utility Eskom Holdings SOC Ltd., the newspaper said, citing unidentified officials in the ruling African National Congress party.
Within hours, Zuma's office issued two statements denying the finance chief was about to be replaced, and noting denials of law enforcement agencies that an arrest was imminent. "The story is the work of dangerous information peddlers who wish to cause confusion and mayhem in the country," spokesman Bongani Ngqulunga said in an e-mailed statement.
Gordhan, 67, was reappointed in December to the post he held from 2009 until 2014 after Zuma came under pressure from political and business leaders for naming little-known lawmaker David van Rooyen as finance minister, triggering a four-day rout that sent the rand to a record low against the dollar. Gordhan has been engaged in a public feud with the police over the investigation.
The Directorate for Priority Crime Investigation, known as the Hawks, has questioned Gordhan about a special unit that was established in the South African Revenue Service in 2007 while he was tax commissioner. The minister has said that based on legal advice, establishing the unit was lawful, it performed its function within the law and was funded through the normal budgetary processes applicable to the tax authority.
The unit in the Revenue Service is "still under investigation, no decision has been made to prosecute any person," National Prosecuting Authority spokesman Luvuyo Mfaku said by phone on Sunday.
Hawks spokesman Hangwani Mulaudzi in a telephone interview said Sunday the unit is "distancing ourselves from such a report" on prosecuting Gordhan and said he knows nothing about a docket.
National Treasury spokeswoman Phumza Macanda couldn't immediately respond to a phone call and text message seeking comment. Eskom spokesman Khulu Phasiwe in a text message referred queries to the president's office. ANC spokesman Zizi Kodwa declined to comment when reached on his mobile phone.
Before it's here, it's on the Bloomberg Terminal.
LEARN MORE