Photographer: Jacek Kadaj/Getty Images/Moment RF
Poland's Downgrade Escape Triggers Best Emerging Markets Rally
by , , and
Zloty rises with bonds, stocks as Moody's leaves Poland at A2

Nation's outlook reduced to negative for first time in decade
Poland's currency, bonds and stocks jumped the most in emerging markets as the country escaped a credit downgrade by Moody's Investors Service.
QuickTake Poland's Populist Turn
The zloty headed for its biggest advance in two months, bond yields fell the most since January and all shares in the WIG20 stock index rose after Moody's kept the nation's long-term credit rating at A2, five steps above junk and the same level it has enjoyed since 2002. The ratings company's decision to knock Poland's outlook to negative left PKO Bank Polski SA and Citigroup Inc. questioning the sustainability of the gains.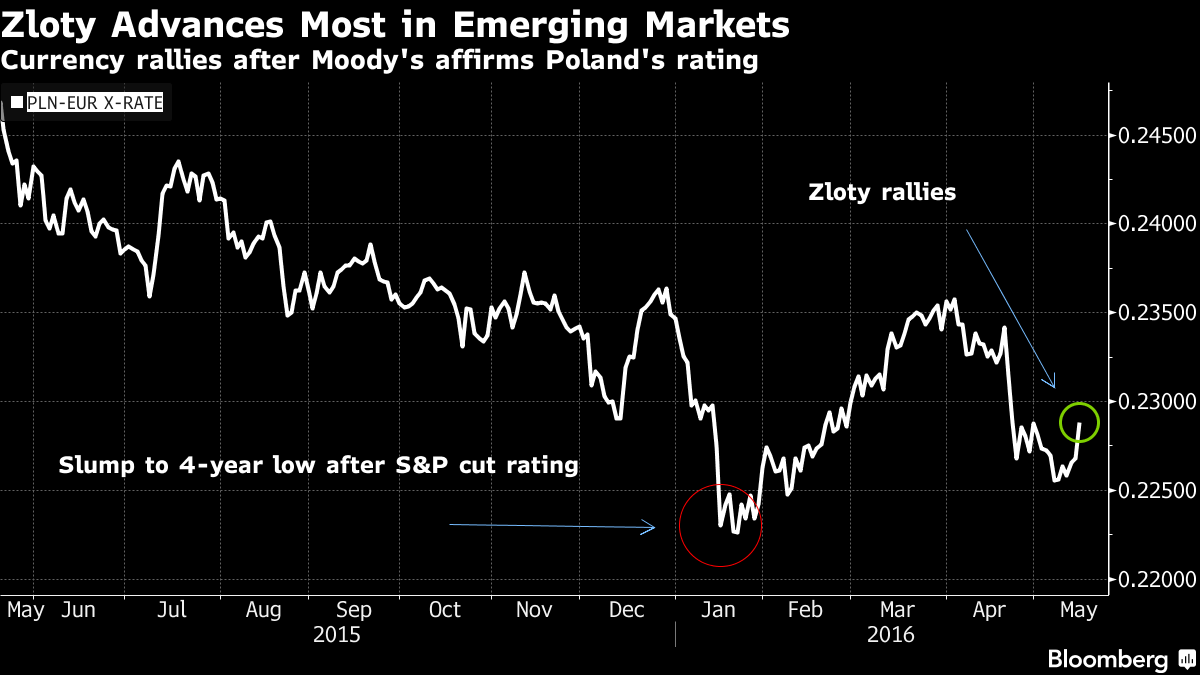 "You can see markets rebounding, but I wouldn't expect a new bullish phase," said Arkadiusz Bogusz, who manages a cross-asset fund at Opti TFI SA in Warsaw. "The rating decision is one thing, while further steps from the government and further rating assessments are another."
The more tempered assessment was a relief for investors whose confidence in the country's status as a haven had been undermined since S&P Global Ratings cut the sovereign by one level in January, citing steps by the Law & Justice government to assert influence over state institutions since taking power late last year. More than half of 21 analysts surveyed by Bloomberg last week had expected Moody's would follow suit and lower the country's credit score.
The zloty appreciated 0.8 percent to 4.3695 per euro at 1:24 p.m. in Warsaw, trimming its decline this quarter to 2.9 percent. Poland's WIG20 jumped 2.1 percent. The yield on 10-year sovereign notes fell seven basis points, the most since January, to 2.94 percent. That narrowed the premium over similar-maturity German bunds to 279 basis points and down from this year's peak of about 295 reached May 5.
The government, which took power in November, has imposed new taxes on banks, rolled out a program of child benefits and pledged to increase tax-free income, measures that may swell Poland's budget deficit beyond European-Union limits. For a quick explainer on Poland's populist turn, click here.

"While concerns on the budget and government policies remain over a medium term, the recent selloff has made Polish bond valuations attractive again versus peers, especially in the currently very low and even negative yield environment in the developed market," Esther Law, a money manager in London who helps oversee emerging-market debt at Amundi, which has the equivalent of $1.1 billion in assets worldwide.
In its statement, Moody's said fiscal risks related to a "substantial" increase in current expenditures, as well as "impairments to the investment climate from a shift towards more unpredictable policies and legislations" were behind its decision to lower Poland's outlook.
"A cut in the outlook is just the beginning," Piotr Bujak, an economist in Warsaw at PKO Bank Polski SA, Poland's biggest lender, said on Saturday. "One can worry that the final effect may not be good over the longer run."
Policy Risks
Risks of a deterioration in the nation's creditworthiness have had repercussions on its assets this year. The zloty is the fourth-worst performer across emerging markets this quarter after ending 2015 in the top 10.
While markets gained on Monday, investors are still seeking clarity on government policy risks, according to Piotr Kalisz, the chief economist at Citigroup's Polish unit in Warsaw. Authorities are weighing a plan to force banks to convert the equivalent of $36 billion in Swiss franc-denominated home loans into zloty in order to relieve pressure on citizens whose monthly payments have surged as the Swiss currency appreciated.
Factors including the plan to convert home loans could stand in the way of "any serious improvement in market sentiment," Kalisz said by phone on Saturday.
Before it's here, it's on the Bloomberg Terminal.
LEARN MORE