Platinum Seen Over Worst as Bulls Wager on Automaker Demand
by
Traders, analysts predict higher prices as investors return

Miners to refiners meet in London this week for annual event
There's a growing feeling in the platinum and palladium market that the worst is over.
After dropping to the lowest in at least half a decade in January, prices since rallied back into a bull market as the outlook for continued low U.S. interest rates reignited the appeal of precious metals. The two commodities will climb about 20 percent through the end of next year, partly on higher demand from carmakers, according to 12 traders and analysts surveyed by Bloomberg.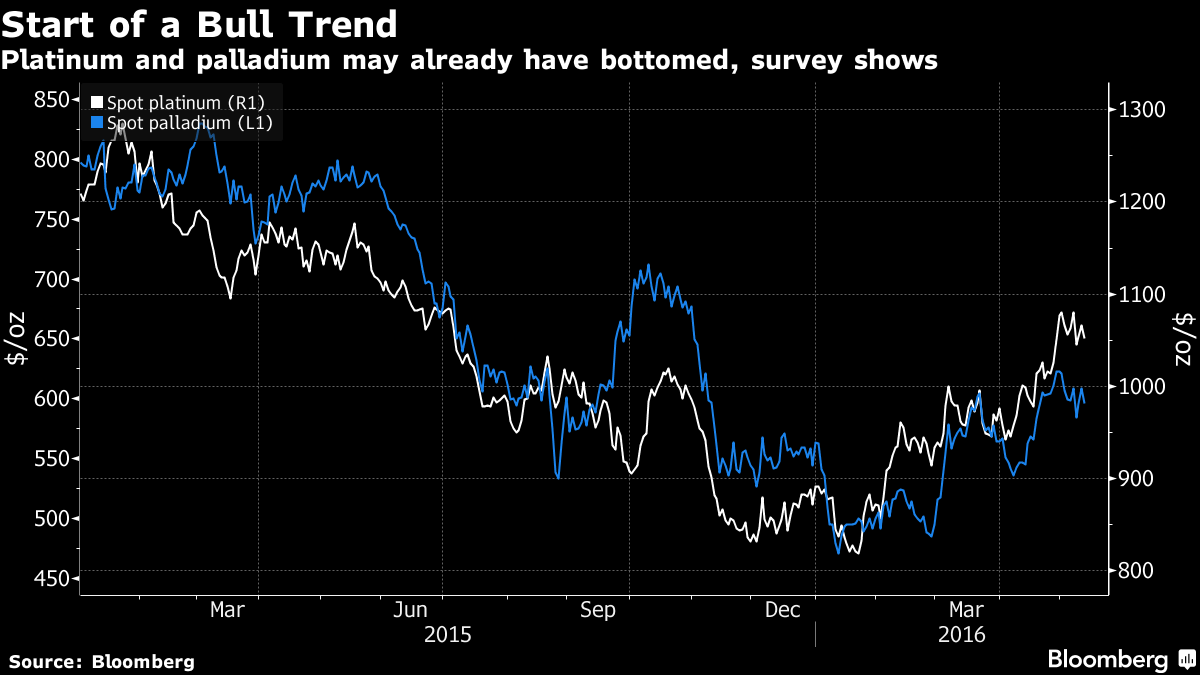 The outlook for supply and demand will be key for miners to refiners at the industry's annual gathering in London this week. Impala Platinum Holdings Ltd., the world's second-biggest producer, has forecast deficits in the medium to long term as demand for materials used to curb harmful car emissions grows. Investors, who for months sold through funds, have started buying again.
"The fundamentals for platinum in particular are slowly improving," said Tom Kendall, the head of precious metals strategy at ICBC Standard Bank Plc in London. "We've almost certainly seen the bottom of the market for both platinum and palladium."
Prices Dropped
Prices plunged as much as 48 percent since 2014, hurting mining companies' profits and forcing some, such as Lonmin Plc, to shutter unprofitable production, cut jobs and seek cash from shareholders. Platinum reached a seven-year low and palladium the weakest in five years at the start of 2016 as concerns that global economic growth was faltering rocked equity markets and sent industrial metals tumbling.
That probably marked the bottom, according to the median estimate in the Bloomberg survey. Platinum should climb about 9 percent to $1,153 an ounce by year-end and reach about $1,283 by the end of 2017. Palladium may advance 11 percent to $660 an ounce by late December and about $738 by the end of next year.
Sentiment is already improving among exchange-traded product investors. Platinum holdings, which slumped to a two-year low in late February, have since risen 4.7 percent to 75.1 metric tons, near a five-month high, data compiled by Bloomberg show. Palladium assets gained 3.2 percent to 70.5 tons.
There may be a bumpy path ahead to higher prices. Anglo American Platinum Ltd., the world's largest miner of the metal, in February said it expects prices to remain depressed, before mine closures and and less capital expenditure in the coming years lead to supply constraints.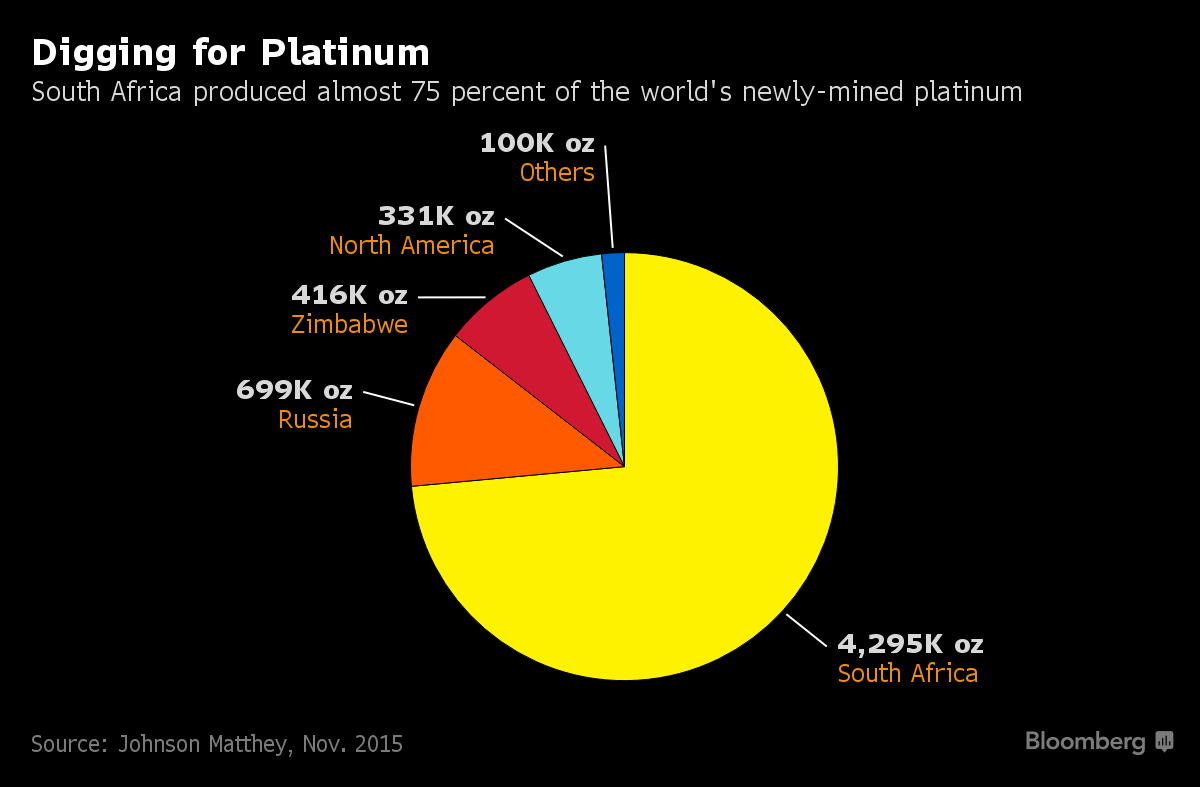 Mine shutdowns and safety stoppages have already hit production in South Africa, where almost three quarters of platinum and about 40 percent of palladium is mined. A key issue in the next few months will be workers' wage talks. A deadlock in negotiations led to a five-month strike in 2014, the longest in the country's history.
Mine production of platinum is set to fall 5 percent in 2016, after reaching a four-year high of 6.3 million ounces last year, research firm Metals Focus said in a report on Monday. Palladium output will fall by a similar amount to 6.5 million ounces after jumping to the highest since 2010.
Bulls also point to rising demand, mainly because of increasing car sales amid stricter environmental rules around the world. About 40 percent of platinum consumption and 80 percent of palladium comes from the auto industry, according to Johnson Matthey Plc, which makes one in three car autocatalysts.
The World Platinum Investment Council tripled its 2016 platinum deficit estimate to 455,000 ounces, it said Monday, citing higher investment demand. Societe Generale SA estimates a shortage of 190,000 ounces for platinum and 1.1 million ounces for palladium this year. Johnson Matthey today predicted shortfalls for both metals this year.
"The metals look like they're going up, rather than down," said Andy Pfaff, the chief investment officer for commodities at MitonOptimal Group in Cape Town. "We're starting to see some buyers return and pretty soon that will attract the interest of bigger investors, which could push us into a prolonged bull market."
Before it's here, it's on the Bloomberg Terminal.
LEARN MORE