Photographer: Dimas Ardian/Bloomberg
Indonesian Bonds Turn Top Asia Performers on Rating Upgrade Hope
by
Nation's corporate dollar bonds return 12.1 percent in 2016

'Rare case these days to have an upgrade story:' Pinebridge
Indonesian corporate dollar bonds have turned into Asia's best performers this year and fund managers say the chances of the nation winning a higher debt rating could supercharge the rally.
As President Joko Widodo improves government finances, S&P Global Ratings may upgrade the nation to investment-grade this year, according to BEA Union Investment Management and Pinebridge Investments. Indonesian U.S. currency bonds gained 12.1 percent this year, the most on a Bank of America Merrill Lynch index of Asian company debt. In 2015, it was the second-worst performer after Mongolia.
"The fundamentals of Indonesia really improved a lot," said Pheona Tsang, head of fixed income at BEA Union in Hong Kong, which manages $6.8 billion of assets. "We are past the panic mode last year when we were very concerned about the currency."
The rally is a sharp reversal from last year, when the rupiah slumped as investors focused on the nation's relatively high inflation, compounded by its twin budget and current account deficits. Jokowi, as the former Jakarta governor is known, is funding infrastructure spending by cutting gasoline subsidies, while the central bank has been effective in curbing living costs and stabilizing the Indonesian rupiah.
A government report on Friday showed the current-account deficit narrowed to $4.7 billion in the first quarter from $5.1 billion in the final quarter of 2015 as it paid less to import oil. Bank Indonesia may leave its benchmark policy rate unchanged on May 19 after cutting it 75 basis points in the first quarter, according to Bloomberg Intelligence. Inflation cooled to 3.6 percent in April, the lower half of its 3 to 5 percent target range.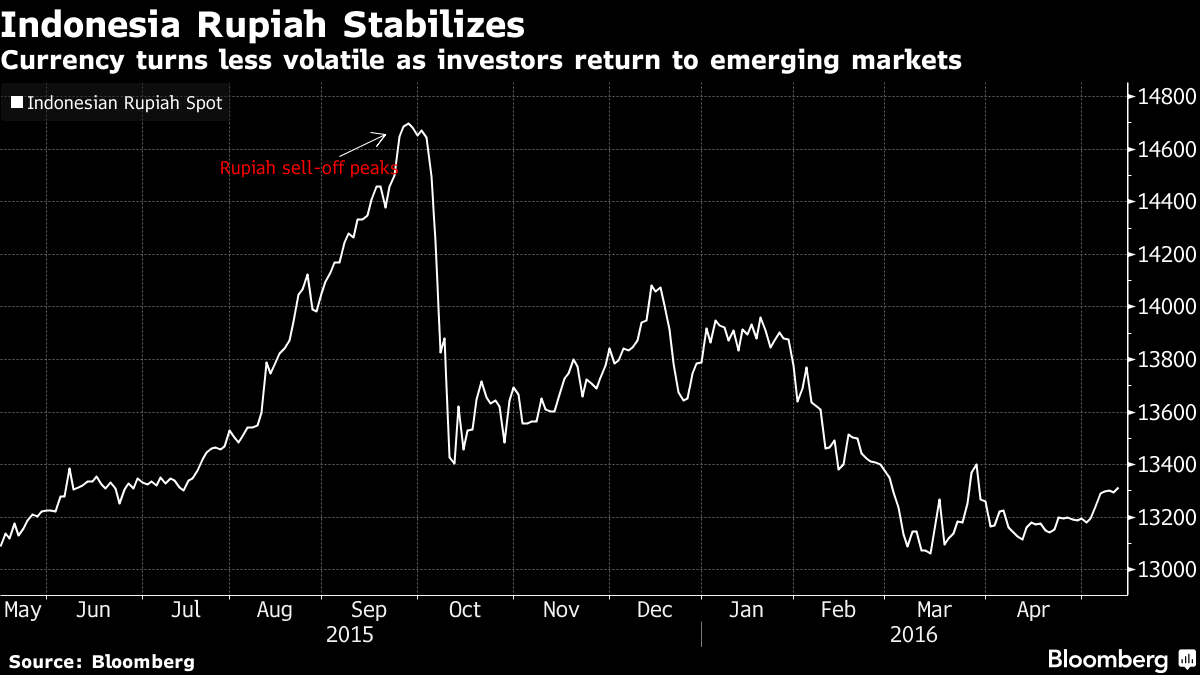 When asked about the likelihood of an upgrade this year, S&P spokeswoman Emi Nakata said its views on Indonesia's rating haven't changed, without providing further comment.
While yield spreads for Indonesian corporate bonds have tightened amid improved investor sentiment, companies face refinancing pressure amid weakness in the consumer and property sectors, Xavier Jean, S&P's senior director, corporate ratings said during a call with journalists on May 12.
"We are not yet seeing a widespread pickup in operating conditions for the corporate sector," said Jean.
Indonesia's economy grew 4.9 percent in the first quarter, slowing from 5 percent during the previous three months, hit by plunging prices for the country's commodities like palm oil and coal. A total of seven Indonesian companies have defaulted on U.S. dollar bonds in the past five years, including Berau Coal Energy Tbk and Bakrie Telecom Pte, according to data compiled by Bloomberg.
"We haven't honestly seen any strong macro data to support or confirm that local growth has revised," said Arthur Lau, co-head of emerging-market fixed income at PineBridge in Hong Kong, which manages $83 billion of assets globally. "But the sentiment certainly has improved significantly."
Jenny Zeng, portfolio manager for Asia credit at AllianceBernstein in Hong Kong, which manages about $479 billion, says that while Indonesia is on the "right track," yields are looking tight. The yield on state oil company PT Pertamina's 4.3 percent bonds due 2023 is 244 basis points more than similar Treasuries, down from as wide as 414 in January.
"We're not looking to add Indonesian exposure at this point in time and instead might reduce," she said.
More funds would be able to buy after any upgrade by S&P, the only agency that rates Indonesia's bonds junk, as soon as next quarter, said Lau at Pinebridge. The company has been trimming exposure to China and moving the money to Indonesia, Lau added.
"It's a rare case these days to have an upgrade story in this environment," he said.
Before it's here, it's on the Bloomberg Terminal.
LEARN MORE