Bonds Trounce Stocks as Aussie Yield Latest to Drop to a Record
by
Aussie 10-year yield tumbles to 2.2% on outlook for RBA cuts

Global bonds gain 3.9% in 2016 while stocks are little changed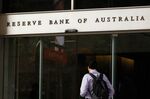 Australian benchmark bond yields fell to an all-time low as bonds trounce stocks around the world.
The Australian 10-year note's yield fell as far as 2.20 percent, a record based on data compiled by Bloomberg going back to 1969. Bonds are rallying after the Reserve Bank of Australia cut its interest rate to an unprecedented 1.75 percent and reduced its inflation forecast earlier this month.
Government debt is surging around the world as investors scale back forecasts for the Federal Reserve to raise interest rates in the U.S., with inflation falling short of its target. Central banks in Europe and Japan are using negative rates to battle deflation. The average yield on the bonds in Bank of America Corp.'s Global Broad Market Index slid to an all-time low of 1.27 percent last week.
"U.S. Treasuries keep on rallying, bunds keep on rallying," said Roger Bridges, the chief global strategist for interest rates and currencies at Nikko Asset Management Co.'s Australian unit, which oversees $14.5 billion. Negative interest rates are "driving bond markets at the present time and basically there's nothing to stop that. Equity markets are probably looking a little bit dicey."

U.S. Treasuries were little changed Monday, with the 10-year note yield at 1.71 percent as of 6:53 a.m. in London, according to Bloomberg Bond Trader data. The price of the 1.625 percent security due in May 2026 was 99 7/32.
Ten-year yields have fallen 56 basis points in the U.S. in 2016. Yields on same-maturity debt dropped to records in Germany last year and in Japan about two months ago. Futures contracts indicate the odds of a Fed rate increase this year are slightly higher than even, falling from more than 90 percent probability in January.
The tumble in yields is translating into gains for investors. Bonds in the Global Broad index have returned 3.9 percent in 2016 as of Friday's close, while the MSCI All Country World Index of shares is little changed after accounting for reinvested dividends.
Australian bonds are also drawing demand as signs of slowing growth in China, the biggest customer for the South Pacific nation's exports, drive speculation the RBA will need to support the economy with additional rate cuts.
Aussie 10-year debt still pays a premium of 28 basis points over same-maturity securities in Singapore, with both nations holding top-level AAA debt ratings. The spread matches the average for the past year.
Gains in the South Pacific nation's debt will turn to losses later in 2016, said Peter Jolly, the global head of research for bonds, currencies and commodities at National Australia Bank Ltd. in Sydney.
"Yields will be higher by the end of the year," Jolly said in an interview in Singapore. "It's not like the Australian economy is falling in a hole. Far from it."
Before it's here, it's on the Bloomberg Terminal.
LEARN MORE