'Glass Half Full' for Modi Two Years Into Historic India Win
by and
Parliament adjourned last week after passing two key bills

Investors call for more economic, institutional reform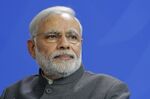 Indian Prime Minister Narendra Modi might have got his reformist mojo back.
Two years into an administration that's been peppered with disappointment ranging from a failure to enact a decade-overdue national sales tax to a lack of labor-market liberalization, Modi's party pulled off two key legislative wins in the so-called budget session of parliament.
Building on recent victories -- including the closing of a tax loophole and overhaul of a red-tape inducing colonial-era bankruptcy law -- will be key to reestablishing the narrative that helped sweep Modi to office. A can-do, pro-economic growth message could help limit losses for Modi's party in five state elections, with results due Thursday.
"The glass is half full," said Arjen van Dijkhuizen, senior economist at ABN Amro Bank NV in Amsterdam. "We are positive, but we would like to stress that more reforms are needed for India to strengthen its physical and institutional infrastructure and to safeguard the confidence of foreign investors."

Part of the reason for Modi's struggles was that he'd failed to reconcile the expectations of a mostly rural electorate with those of sophisticated investors who'd cheered his landslide win in 2014. Results for five state elections are due this week and India's most populous state goes to the polls next year.
The opposition soon seized on Modi's series of foreign trips to accuse him of policies that favored the rich. They engineered a parliamentary gridlock and eventually forced him to pivot to pro-farmer policies in his budget for the year that started April 1.
Momentum picked up in March with the passage of a three-year-old bill that allowed for the creation of a real estate regulator and, on Tuesday, India redrew its treaty with Mauritius to ensure investors don't use the island to skimp on taxes. The next day, lawmakers cleared legislation that will overhaul archaic insolvency laws, slashing the time taken to wind up a dying company and recover dues from creditors.
'Incremental Approach'
"These are no doubt important reforms and signal the intent of the government to resolve long-pending taxation issues and create a more conducive environment for doing business," Gaurav Kapur, a senior economist in Mumbai at Royal Bank of Scotland Group Plc, said by e-mail. "These steps however, may not be a precursor to a more aggressive stance on reforms, where an incremental approach is likely to continue."
A slowing global economy has made it tougher for Modi to lure factories to India and success on his goal of overhauling Indian cities is still some years away. Policy makers are also plodding toward advancing banking services to the poor, cutting subsidies and creating more jobs for a burgeoning workforce.
The benchmark S&P BSE Sensex index has dropped 7.7 percent since the end of 2014, compared with an average 2.4 percent gain for more than 90 global indexes tracked by Bloomberg. The rupee weakened 5.6 percent, one of the worst performers among Asian currencies.
'No Change'
About 49 percent of respondents in a survey published last month by the Centre for Media Studies said they feel "no change" in their living standards while 15 percent said the situation had worsened. Yet, as many as 70 percent wanted Modi to continue as prime minister beyond his term that ends in 2019.
Modi has transformed global investors' perceptions about India despite the opposition's attempts to thwart his reforms, said Rajiv Biswas, Singapore-based chief economist for Asia-Pacific at IHS Global Insight. Foreign direct investment rose to a record in 2015, official data show.
"He has laid the foundation for significant further economic progress in India during his remaining three years in office," Biswas said.
(A previous version of this story was corrected to show that the rupee weakened in 2015.)
Before it's here, it's on the Bloomberg Terminal.
LEARN MORE