Sandberg Speech on Resilience May Form Basis for Second Book
by
Facebook chief operating officer gives Berkeley grad speech

Sandberg speaks on lessons after the death of her husband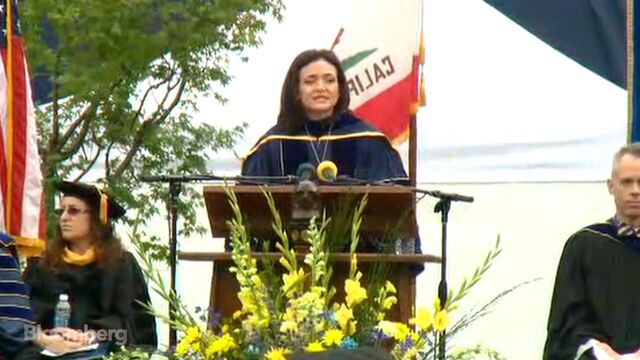 Just over a year since the death of her husband, Facebook Inc. Chief Operating Officer Sheryl Sandberg has learned how to be more resilient -- a hard-won skill she's sharing first in a graduation speech and potentially in a second book.
Sandberg told graduating students at the University of California at Berkeley on Saturday that their lives may someday be clouded by tragedy or a challenge they can't yet imagine. What will define them is how they gather the strength to overcome it, and find gratitude and appreciation in life.
Sandberg, who spoke about her husband's death publicly for the first time, has considered focusing on the subject of resilience in a second book, according to people close to her. While she's been discussing the idea with friends, the process is not yet formal. The Berkeley speech was her first attempt to explore publicly the feelings and lessons she would address in the book, the people said. Facebook declined to comment.
"When the challenges come, I hope you remember that deep within you is the ability to grow,'' Sandberg told the Berkeley graduates. "You are not born with a fixed amount of resilience. It's a muscle, you can build it up and then draw on it when you need it.''
Crucial Partner
On May 1, 2015, Sandberg's husband, Dave Goldberg, suffered a cardiac arrhythmia -- an irregular beating of the heart -- and then fell while exercising on vacation in Mexico. He was chief executive officer of SurveyMonkey Inc. and a devoted husband and father who was generous with his time and advice in the technology community. In Sandberg's first book, "Lean In," she credited Goldberg with being a crucial partner in her career. In the days following his death, a "deep fog'' of grief seemed insurmountable, constricting her ability "to think or even to breathe,'' she said in the speech on Saturday.
Sandberg also said she struggled at first upon her return to Facebook. In her first meeting back, she sat in a "deep haze," thinking "what is everyone talking about and how could this possibly matter?"
Overcoming a Tragedy
In the following weeks and months, Sandberg drew on the support of friends, psychologists, scientific studies and her rabbi. Theories of psychologist Martin Seligman take center stage in her speech: When a tragedy occurs, overcoming it means accepting that it's not your fault, that it doesn't have to control every aspect of your life, and that the sorrow won't last forever.
"I learned about the depths of sadness and the brutality of loss,'' Sandberg said. "But I also learned that when life sucks you under, you can kick against the bottom, find the surface and breathe again.''
Sandberg started counting her blessings: her children, her ability to walk, birthdays. She encouraged the Berkeley graduates to find the same gratitude and human connection in their own lives, while building resilient organizations. To do that, she said they must seek to solve the problems they see, "whether it's a boardroom that is not representative or a campus that's not safe.''
'Lean In'
Sandberg's "Lean In: Women, Work and the Will to Lead," was the second-best-selling print book on Amazon.com in 2013, according to Publishers Weekly. It fueled a global conversation about inequality for women in the workplace. Her resulting nonprofit organization arranged Lean In "circles" where women gather to talk about career hurdles and made other moves for female empowerment, like a campaign to stop calling young girls "bossy."
A book about resilience would strike a different tone, but, like "Lean In," would draw upon Sandberg's own experience to help people address challenges in their lives.
"I'm sharing this with you today in the hopes that on this day in your life, with all the momentum and joy, you can learn the lessons that I only learned in death," she said.
Before it's here, it's on the Bloomberg Terminal.
LEARN MORE