FIFA Compliance Chief Quits, Saying Corruption Fight Threatened
by and
Resignation follows purported undermining of oversight bodies

FIFA Congress gave council power to fire watchdogs Friday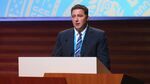 FIFA's head of audit and compliance, Domenico Scala, quit Saturday to protest changes at the top of global soccer's governing body that he said will imperil efforts to eliminate corruption.
Scala, who was with the organization for four years, said a vote Friday by FIFA to let the ruling council dismiss members of its independent advisory bodies would leave them "in danger of becoming auxiliary agents of those whom they should actually supervise." The changes were made at the first congress under new President Gianni Infantino.
Scala said the change "destroys a substantial achievement" of FIFA's reforms since last year's scandal ended Sepp Blatter's 17-year rule of the Zurich-based soccer body, officially known as the Federation Internationale de Football Association.
In addition to his audit role, Scala chaired a panel that makes pay offers to FIFA executives. Former FIFA ethics adviser Mark Pieth told Bloomberg News that Infantino and Scala had disagreed over a $2 million annual pay offer made to Infantino, lower than former President Blatter's $3 million. Pieth, who remains close with Scala, says Infantino is "offended because maybe he thinks he is not getting enough money."
Infantino said Friday he has not been paid since joining FIFA in February, and has not yet agreed to a contract. A FIFA spokesman told Bloomberg News on Saturday afternoon that Infantino has nothing to add to what he said the day before about pay. Bloomberg News sent an e-mail to Scala for comment on Pieth's assertion of a disagreement over Infantino's compensation terms, but did not receive an answer.

Dismissal Threat
Committee members tasked with oversight of the ruling council could be dismissed or kept acquiescent through the threat of losing their post, according to a statement issued by Scala.
FIFA's ethics investigators and Scala have been busy since last May's arrests of several senior soccer leaders and sports marketing executives sparked the biggest crisis in the governing body's history. Scala walked out of Friday's meeting before the congress, held in Mexico City, voted to give the FIFA Council the new powers.
Under previous rules only the full FIFA Congress had the power to appoint or remove independent officials. Several former FIFA vice presidents and members of its governing executive are among the officials charged in the U.S.'s sprawling corruption investigation.
FIFA accepted Scala's resignation Saturday morning, calling his claims "baseless." The new powers were granted to more easily fill vacancies and swiftly remove members who have "breached their obligations." Scala's deputy, Sindi Mabaso Koyana, will serve as acting chairman of the Audit and Compliance Committee until a replacement is found, according to FIFA.
Before it's here, it's on the Bloomberg Terminal.
LEARN MORE