Five Things You Need to Know to Start Your Day
Get caught up on what's moving markets.
by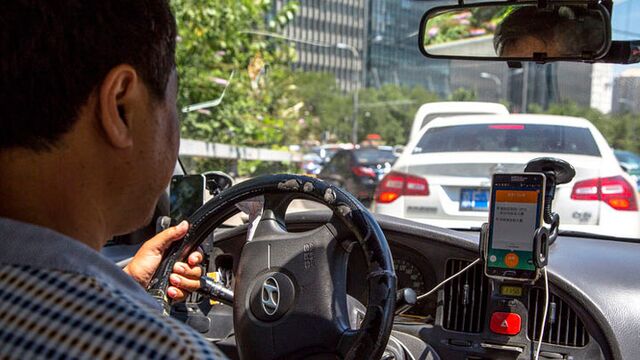 Want to receive this post in your inbox every morning? Sign up here
Automakers can't catch a break, it's Apple v Uber and a mountain of data is out and due. Here are some of the things people in markets are talking about today.
Automaker woes
Honda Motor Co. reported net income of 344.5 billion yen ($3.2 billion) for the year ended March 2016, missing its forecast by 34 percent. The company also said that it will recall 21 million more vehicles to replace Takata Corp. air bags and gave guidance far below analysts estimates for this fiscal period as the strong yen takes its toll on profits. Meanwhile, more details have emerged on the tie-up between Mitsubishi Motors Corp. and Nissan Motor Co. in which the latter is taking a 34 percent stake in Mitsubishi and has promised to back the under-pressure automaker "as much as possible" following the revelation of it overstating the fuel economy of its cars. In Europe, another scandal-hit automaker continues to feel the pressure with Volkswagen AG's market share slumping to a five-year low. The company has now lost market share in every month since the emissions scandal came to light in September of last year.
Apple v Uber... and Apple v Alphabet
Apple Inc. is investing $1 billion in Didi, a ride-hailing startup in China, in a move that will be a blow to Uber Technologies Inc. which is trying to build its presence in the country. Didi said in a statement that Apple's investment takes its funding round to $3 billion, leaving the company now valued at $26 billion. Apple's position as the world's most valuable company is coming under pressure from Alphabet Inc., with the iPhone maker's market cap falling behind that of the owner of the Google search service in trading yesterday. Both, however, will be reduced to fighting over second place, once Saudi Aramco floats. 
So much data
Today is a good day to gauge the health of the global economy as data releases across the world should provide some insight. So far today it has been a mixed bag. Hong Kong's economy unexpectedly contracted in the first quarter with GDP dropping 0.4 percent and only growing 0.8 percent from a year earlier, far below economist expectations of 1.5 percent. In the euro-area first quarter GDP was revised 0.1 percent lower to 0.5 percent in the second reading released this morning. The stand out economy in the region was, once again, Germany which grew 0.7 percent in the quarter, with that growth driven by stronger domestic consumption. In the U.K., construction output fell 4.5 percent from a year earlier, far more than expected. Investors will be closely watching U.S. retail sales data, due at 8:30 a.m. ET, with analysts surveyed by Bloomberg expecting a rise of 0.8 percent in April. Any sign of consumer weakness from retail data, or the University of Michigan sentiment survey, due at 10:00 a.m. will feed into Fed policy expectations.
Markets lower
Equity makers are lower across the board this morning. Overnight in Asia, the MSCI Asia Pacific Index dropped 1.3 percent as uncertainty over global growth prospects amid a disappointing earnings season weighed on sentiment. In Europe the Stoxx 600 Index is down for a third day, trading 0.6 percent lower at 5:58 a.m. ET, as the commodity bounce earlier in the week fades. S&P 500 futures were 0.5 percent lower.
Brazil's new cabinet
Brazil's new leader, Michel Temer is already facing criticism for selecting a cabinet that is completely male and pale. One of the hardest jobs in the administration has gone to Henrique Meirelles who was President of the Central Bank while Luiz Inacio Lula da Silva was in power. Investors who had piled in the country's stock market in the lead up the suspension of Dilma Rousseff, may now be better off looking to the Brazilian bond market as Temer seeks to restore government finances and quell inflation.
What we've been reading 
This is what's caught our eye over the last 24 hours.
Before it's here, it's on the Bloomberg Terminal.
LEARN MORE