Don't Bet Against the Danish Central Bank
by
Danish central bank says it's pointless betting against peg

Governor Lars Rohde says euro peg situation has now stabilized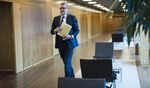 The man overseeing the world's longest period of negative interest rates says any funds betting against the currency peg he's defending will ultimately lose money.
"Last year the central bank made a profit on movements in the market," most of which came from currency trades, Governor Lars Rohde said in an interview at the Danish central bank in Copenhagen on Thursday. "Someone must have been doing the opposite trade."

The central bank made about 2 billion kroner ($307 million) from transactions focused on preventing the krone from strengthening beyond the confines of its peg to the euro, it said in March. That followed a speculative attack at the beginning of last year that forced AAA-rated Denmark to cut its main rate to minus 0.75 percent, halt government bond sales and drive foreign currency reserves to a record 40 percent of gross domestic product.
Peg Hedges
Though the central bank prevailed, the shock of the speculative attack against the euro peg prompted a number of pension funds in Denmark to err on the side of caution and create a hedge that would protect them from a sudden appreciation in the krone. Danish funds oversee about $600 billion in pensions and investment savings, dwarfing the $340 billion economy.
"Profitable speculation is normally stabilizing," Rohde said. "And that's exactly what we're doing: stepping into the market when there's an excess of supply or demand."
As recently as last month, Danske Bank A/S, the country's biggest financial conglomerate, was advising pension fund clients to build hedges on an assumption the krone will stay strong against the euro. That coincided with an appreciation in the krone to levels matching those of the peg crisis.
While the country's biggest pension fund with $115 billion in assets, ATP, has said it won't hedge against the peg, others argue they can't afford to ignore the risk entirely, however small. PFA, Denmark's second-biggest pension fund with about $83 billion in assets, is a case in point.
QuickTake QuickTake: Denmark's Negative Rates
"Back when we set up hedges we did it after the SNB cut its peg to the euro," Christian Lage, the chief investment officer of PFA, said by phone. "This time it's about Brexit and the geopolitical uncertainty that lies ahead of us." While the fund doesn't expect Denmark to abandon its peg, "we do need to insure against tail risks as part of our risk management," he said.
But for others, the guarantee from the central bank is enough. "We don't have any krone hedges and never have had any because we have full confidence in the central bank's ability to defend the peg," Kasper Ullegaard, who oversees all fixed-income investment at Sampension, which has $38 billion in assets, said by phone.
Lower Bound
As governor of Denmark's central bank, Rohde oversees a monetary policy institution that has kept its rates below zero for the better part of almost four years. He has even said that market estimates that Denmark's policy rate might not go positive until 2019 may well be right.
The experience has provided the lesson that minus 0.75 percent is not the lower bound, Rohde said. We also know that negative rates work much in the way that positive rates function, and there's no collapse in monetary logic once one passes zero, he said. And though the ability of negative rates to revive inflation is questionable, the policy's impact on exchange rates seems clearer. Denmark won praise from the International Monetary Fund for its successful peg defense last year.
The central bank targets 7.46038 kroner per euro. One euro cost 7.4398 as of 2:10 p.m. in Copenhagen. Rohde said the extreme measures deployed mean that the situation for the euro peg has now normalized.
Watch Next: Should Central Banks Act More Hawkish?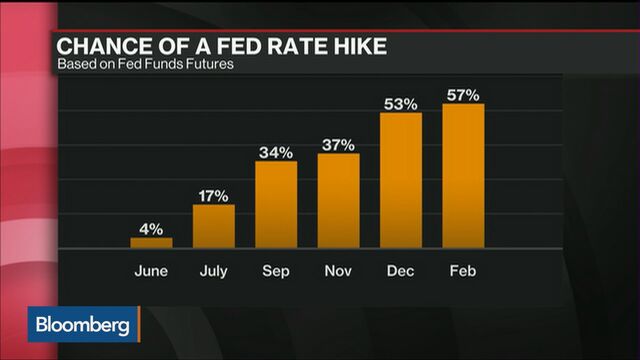 Before it's here, it's on the Bloomberg Terminal.
LEARN MORE