Russia Dismisses Olympics Doping Charges as 'Defector's Slander'
by
Deputy sports minister says Russia not running doping program

Russian track team is suspended from competitions for doping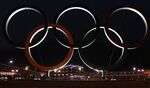 The Kremlin lashed out as a growing doping scandal threatened Russia's participation in the Olympic Games this summer in Rio de Janeiro.
Kremlin spokesman Dmitry Peskov dismissed a story by the New York Times published on Thursday that alleged Russia ran a widespread state doping program at the 2014 Sochi Winter Olympics. The story, based on interviews with Grigory Rodchenkov, the former head of an anti-doping laboratory in Moscow, said at least 15 Russian medalists in Sochi used illegal steroids. Speaking on a conference call with reporters, Peskov called the report "a defector's slander."
"There is no doping program in Russian sports or the Russian Federation and there never has been," Deputy Sports Minister Yuri Nagornykh said at a press conference broadcast on Rossiya 24 television. He denied Rodchenkov's allegations that they met weekly before Sochi to discuss the doping program as "wild fantasies."
Russia's track-and-field team has been suspended and could miss the Olympics after the World Anti-Doping Agency last year found systematic attempts by athletes, coaches, doctors and Russia's Federal Security Service to falsify doping test results. WADA said on Thursday it will investigate the additional allegations.
The Russian Olympic Committee has previously pledged to sanction officials, coaches and athletes implicated in the doping scandal.
Before it's here, it's on the Bloomberg Terminal.
LEARN MORE