Pimco Total Return Doubles Junk-Bond Limit to 20% of Holdings
by
Assets fell to $87 billion in February, down 70% from the peak

Fund manager called corporate bonds an investor 'sweet spot'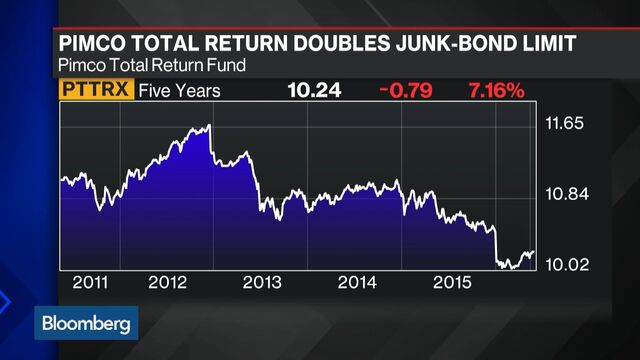 The Pimco Total Return Fund, the world's one-time largest bond fund whose assets fell as it trailed peers, is doubling its allowable allocation to junk bonds.
The $87 billion mutual fund will be able to place as much as 20 percent of its assets in high-yield securities effective June 13, up from a current cap of 10 percent, according to a filing Friday.
"The increase in the limit helps the Pimco portfolio-manager team enhance returns without significantly altering the risk profile of the fund," Michael Reid, a spokesman for Pacific Investment Management Co., said in a telephone interview. "This increased flexibility should allow the fund to take better advantage of tactical market opportunities as they occur."
The Bloomberg Global High Yield Corporate Bond Index has gained 7.2 percent this year.
Trailing Peers
The Total Return Fund, whose assets peaked at $293 billion in April 2013, has risen 2.5 percent this year and is trailing 79 percent of its peers, according to data compiled by Bloomberg. Over the past three years, it's lagged behind 63 percent of similar funds.
High-yield credit accounted for about 2.5 percent of the Total Return Fund as of April 30, according to Pimco's website. The fund also holds non-investment-grade debt in mortgage-backed securities, emerging-market credit and sovereign-debt instruments.
The fund can invest as much as 30 percent in securities in foreign currencies, 15 percent in emerging markets and 10 percent in equity-related securities.
Mark Kiesel, who co-manages the fund with Scott Mather and Mihir Worah, described U.S. corporate debt outside the battered energy sector as "a sweet spot" for investors, offering equity-like returns with lower volatility than stocks.
"We're not chasing the higher-beta energy or commodity sectors here in high yield," Kiesel said during a May 6 interview on Bloomberg Television. "However, we do see significant value in housing, consumer-related sectors, non-agency mortgages, building materials, health care, cable."
Before it's here, it's on the Bloomberg Terminal.
LEARN MORE