Brazil's Meirelles Promises Less Spending, Realistic Goals
by
New finance minister promises tough measures to win back trust

Meirelles plans to chose new central banker over the weekend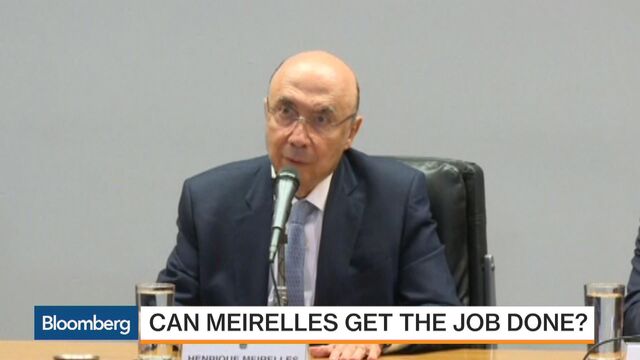 Brazil must rein in on public spending, bring down debt levels and propose realistic fiscal targets to win back investor trust, Finance Minister Henrique Meirelles said Friday.
Meirelles, who on Thursday took over as finance minister in Acting President Michel Temer's new cabinet with the task of reviving Latin America's largest economy, said he would take tough measures to stabilize debt levels and didn't rule out raising taxes.
"The country is waiting for a change in the course of the economy," he told reporters in Brasilia. "There's been a whole cycle of deterioration in the economy. We need to signal a reversal of this process."

Brazil's fiscal deficit this year is likely higher than the 96 billion reais ($27.5 billion) targeted by the previous government, Meirelles said, adding that he is trying to get a hold of the situation inherited from President Dilma Rousseff. Concrete measures will only be announced after that, he said.
Limiting public spending will help policy makers fight inflation, said Meirelles. "I'm sure inflation will stabilize and converge to the government target," he said.
Higher Taxes
The former president of BankBoston Corp., who served also as the president of Brazil's central bank between 2003 and 2011, said he didn't rule out temporarily increasing or introducing new taxes, such as a controversial contribution on financial transactions known as CPMF. Rousseff was trying to push the CPMF through Congress before she was removed from office.
"If a tax is needed it will be imposed but only temporarily because our target is to reduce tax levels as a percentage of GDP," he said.
Meirelles also called for a reform in labor laws and in the country's pension system, including changes in the minimum age for retirement. Changes will be negotiated and announced when there is enough consensus for their approval, he said.
Central Bank
Meirelles said he will announce on Monday the members of his economic team, including the head of the central bank currently presided by Alexandre Tombini. He didn't want to confirm whether Tombini will be replaced or not. Two of Temer's aides said on Thursday the top contender for the job is Ilan Goldfajn, chief economist at Itau Unibanco Holding SA, Brazil's biggest bank by market value.
Meirelles said the government will send Congress a bill ensuring the continuity of "all work conditions" currently enjoyed by the central bank president, including the privilege of being tried only by the Supreme Court. That privilege would be extended to all central bank directors, he added.
Before it's here, it's on the Bloomberg Terminal.
LEARN MORE