SPEND: The Greatest Stove on Earth
Make your cooking dreams come true with an $18,885 fully-customizable Lacanche
By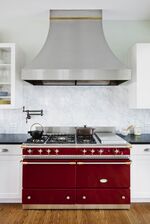 French stove manufacturer Lacanche has been building ranges in Burgundy since the late 18th century and still employs local craftsmen to put each one together by hand. Every stove is completely made to order. Available features include a French plaque—a standard cast-iron plank set over a powerful 18,000-Btu burner—Spanish-style plancha gas burners, chrome hardware, and a pair of warming cupboards for either side of the oven. New this year is a built-in multicooker, which can serve as either a steamer or chafing dish. Or it can simply free up a burner that would have otherwise been used to make pasta. 
If the two dozen stock colors don't mesh with your décor, Lacanche's enameling factory can match any sample you send. That combination of old-school quality (they're almost impossible to scratch), exclusivity (only 50 are sold in the U.S. each month), and demand from chefs such as Jean-Georges Vongerichten and April Bloomfield means the wait for one can be as long as six months. It's worth it. Lacanche has also embraced 21st century functionality: On its website, you can drag and drop different components until you find the perfect layout. $18,885 as pictured; frenchranges.com
Before it's here, it's on the Bloomberg Terminal.
LEARN MORE