Germany Said to Weigh Invite to Rouhani at Risk of Israeli Anger
by and
Chancellery ready for invite amid opposition in Merkel's party

Netanyahu says Iran stoking global threat from radical Islam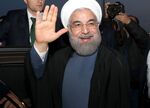 Chancellor Angela Merkel's government is prepared to invite Iranian President Hassan Rouhani to Germany in a signal of support for improved ties with the Islamic republic that would risk angering Israel, according to people familiar with the deliberations.
While the Foreign Ministry favors inviting Rouhani to Berlin, the government has stopped short of issuing an invitation amid opposition from members of Merkel's bloc, who warn against sending the wrong signal to Israel, a German ally. The government is now weighing an invite, though no date has been set for a prospective visit, according to the people, who asked not to be named discussing private discussions.
German government spokesman Georg Streiter declined to comment when contacted by text message on the prospective visit, as did the Foreign Ministry. No one answered the phone at the Iranian Embassy in Berlin on Friday.
European nations are flocking to invest in Iran after last year's global nuclear accord led to a lifting of sanctions on trade and finance in return for the country scaling back its nuclear program. Germany joined the five permanent members of the United Nations Security Council -- the U.S, U.K., France, Russia and China -- in negotiating with Iran on the deal, which was opposed by Israel.
Israeli Prime Minister Benjamin Netanyahu, in a live Twitter session on Thursday, blamed Iran along with Islamic State for a rise of radical Islam that poses "the greatest threat to Israel and the civilized world."
Tehran Delegation
Rouhani skirted the German capital in a tour of Europe in January, when he visited Paris and Rome, announcing deals with companies including Airbus Group SE and carmaker PSA Group. Rouhani unexpectedly canceled a state visit to Austria at the end of March, citing security reasons. German Economy Minister and Vice Chancellor Sigmar Gabriel, who heads Merkel's Social Democratic Party coalition partner, sent his deputy to Tehran earlier this month.
German Foreign Minister Frank-Walter Steinmeier, a fellow Social Democrat, raised the possibility of a Rouhani visit to Europe's biggest economy when he met with the Iranian president in Tehran in February. But an official invitation can only come from Merkel's office or Germany's head of state, President Joachim Gauck.
At the time, Norbert Roettgen, the CDU chairman of the parliamentary foreign affairs committee, told Der Spiegel magazine that "the symbolism of such a visit would be both too little and too much." The nuclear deal "has not brought forth a new Iran," he said. "Internally, state repression continues. Externally, Iran continues to pursue offense power plays." Roettgen's office didn't immediately respond when contacted Friday.
Before it's here, it's on the Bloomberg Terminal.
LEARN MORE