Consumers Turn Out to Be U.S. Growth Lifeline After All
by and
Retail sales climb a more-than-forecast 1.3%, most in a year

Michigan sentiment survey shows real income expectations gain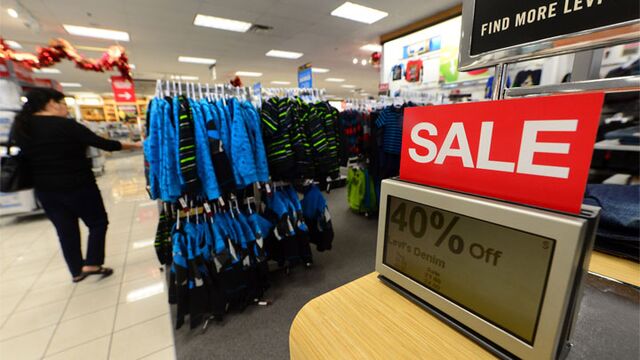 American consumers last month shook off the winter blahs in impressive fashion.
Retail sales climbed in April by the most in 13 months, abruptly ending an early-year letdown in spending that caused a first-quarter downshift in the economy, Commerce Department data showed Friday. The gain was broad-based, with purchases picking up at auto dealers, apparel stores, furniture outlets and online merchants.
"This is all part and parcel of the consumption numbers coming more in line with the income numbers we've been seeing," said Jacob Oubina, senior U.S. economist at RBC Capital Markets LLC in New York. "The breadth of this report was extremely constructive."
A sentiment survey from the University of Michigan helps explain why. Confidence surged in early May to an almost one-year high as households grew the most upbeat about their inflation-adjusted incomes than at any time in a decade. Such wherewithal to spend means the economy has a tailwind that will probably lead to faster growth in the second quarter.

Healthy household finances and increased savings mean consumers have the wherewithal to boost spending, which can help shore up profits at retailers such as Macy's Inc. after a disappointing start to 2016.
"Today's report raised some eyebrows given the string of negative commentary from retailers, but that juxtaposition is a useful reminder that publicly-traded corporations account for a minority of economic activity in the U.S.," Michael Feroli, chief U.S. economist at JPMorgan Chase & Co. in New York, said in a research note.
The 1.3 percent surge in retail sales, which exceeded the 0.8 percent median forecast in a Bloomberg survey, followed a 0.3 percent March decline that was smaller than previously reported. Core purchases, the figures that are used to calculate gross domestic product and which exclude such categories as autos, gasoline stations and building materials, advanced 0.9 percent last month, the most since March 2014.
Economists at Goldman Sachs Group Inc. raised their tracking estimate for second-quarter GDP growth to 2.6 percent from 2.3 percent, after Friday's reports. Macroeconomic Advisers lifted its tracking forecast to 2.3 percent from 2 percent and Barclays Plc economists boosted their's to 2.2 percent from 2 percent.
Eleven of 13 major retail categories showed sales gains last month. Demand at auto dealers climbed by the most in a year and receipts at grocery stores and online merchants were the strongest in almost two years, the Commerce Department's report showed.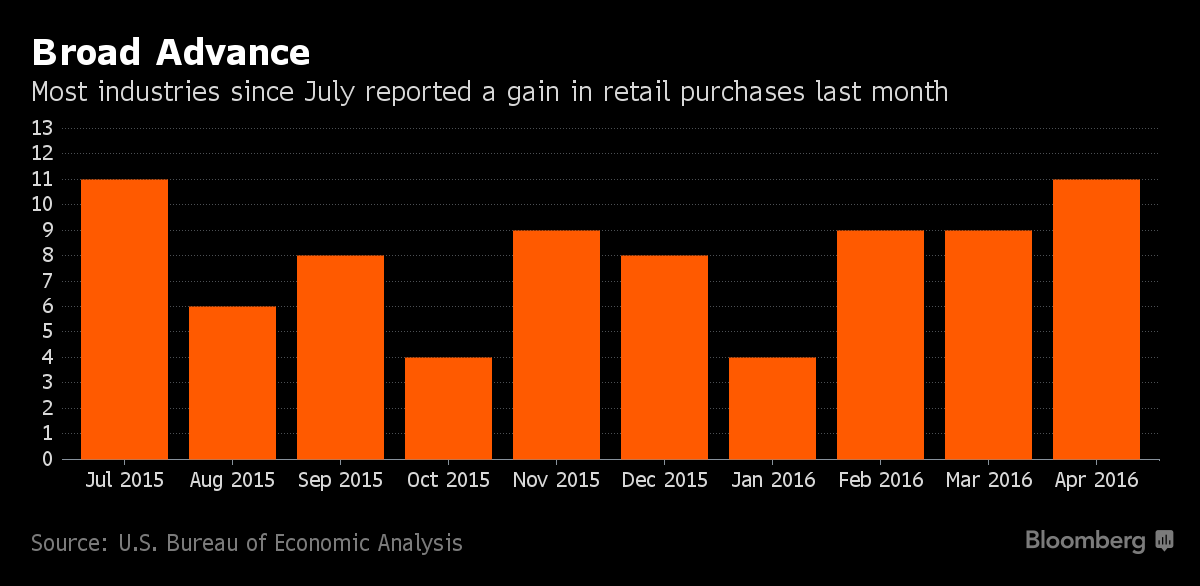 A jump this month in consumer sentiment indicated the potential for follow-through gains at retailers. The University of Michigan's gauge rose to 95.8, the highest since June, from 89 in April. The Bloomberg survey median called for a reading of 89.5.
Respondents were more upbeat about current economic conditions and the outlook. Michigan's gauge of expectations rose by 9.9 points, the most since September 2006, to 87.5 in May. The measure of present conditions, which takes stock of views about personal finances, increased almost 2 points.
The advance in expectations was broad-based and led by lower-income and younger households, while all Americans projected real incomes would rise by the most in 10 years. Current conditions also improved as the biggest share of households since 2000 said their earnings had recently grown, indicating consumer spending can help the economy recover from a first-quarter slowdown. GDP rose an annualized 0.5 percent from January through March, the weakest in two years.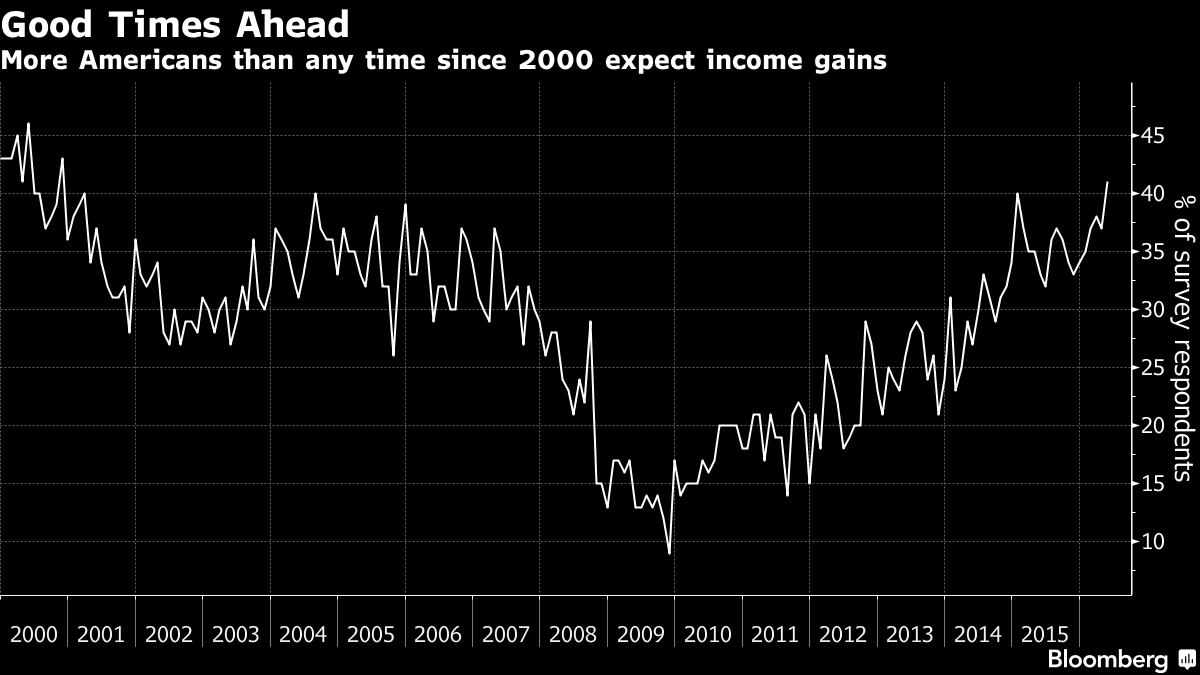 "Consumers discounted the first-quarter GDP report as a misleading indicator, instead, they have based their expectations more on their own direct experiences," Richard Curtin, director of the University of Michigan consumer survey, said in a statement. "The early May data are a welcome sign of an impending shift toward spending and away from savings."
Households were also more confident that inflation will stay tame in the coming year. Survey respondents anticipate a 2.5 percent rate, matching the lowest since 2010 and down from 2.8 percent in the April report.
Before it's here, it's on the Bloomberg Terminal.
LEARN MORE