Brazil's New Club Is All Boys and They're Running the Show
by and
Acting President Michel Temer has named no women to cabinet

This follows ouster of Dilma Rousseff, first woman president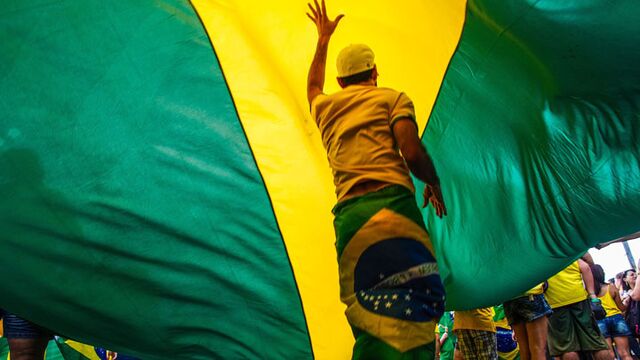 Brazil's new leader, Michel Temer, seeking to unite a splintered nation, has selected a cabinet of ministers from across this sprawling country -- young, old, northerners, southerners. But of some two dozen named so far, all are men and none are black. That has drawn instant and intense criticism.
QuickTake Brazil's Highs and Lows
"After the governments of the Workers' Party, which included women and blacks, the plan so far is for a Temer government without diversity," wrote Miriam Leitao, a widely-read columnist for O Globo newspaper and critic of the outgoing government, in a comment echoed on social media. "It starts off looking like the past."
Temer took over as Brazil's acting president on Thursday after Dilma Rousseff, the country's first woman president, was suspended from her post to face an impeachment trial. The early controversy underscores the numerous challenges he faces in coalescing the broad support he needs to run Latin America's largest economy.
Stark Contrast
The new government certainly presents a stark contrast to Rousseff's which recently had seven women among its 31 ministers. The suspended president made a point of focusing on gender equality, referring to herself in Portuguese as "presidenta" instead of the gender-neutral "presidente," and routinely speaking of citizens as "Brazilian women and men." In what could be her exit speech on Thursday, she paid tribute to Brazilian women, and said she was proud to be the first woman to hold the top office. She was surrounded by women at the speech.

The cabinet was formed based on suggestions from parties and on a tight schedule, Eliseu Padilha, Temer's chief of staff, said on Friday in response to a question about the all-male cabinet.
"We tried to seek women. But for reasons that we don't need to bring up here, we discussed it and it was not possible," he told journalists in Brasilia. "We will bring women into the government, in posts that used to be ministries, and that now will have the same functions but under a different name."
Temer, who spoke on Thursday surrounded by men, also eliminated the ministry of women, racial equality and human rights, which he merged into the justice ministry.
The trend elsewhere has been quite different. In Canada, Prime Minister Justin Trudeau named 15 women to a cabinet of 30. Hillary Clinton said recently that she'd do the same if elected.
"Bye, Darling"
Throughout her impeachment process, Rousseff and her supporters attributed part of the condemnation of her and her government to the fact that she is a woman. Her supporters criticize as sexist the expression most often used by her opponents in expressing their wish to see her go -- "Bye, darling." The farewell was one of the trending hashtags on Twitter on Thursday, with more than 88,000 mentions.
Temer's cabinet, announced minutes after he became acting president, included investor favorites such as Henrique Meirelles as finance minister, and old-time politicians including senators Jose Serra, Romero Juca and Blairo Maggi.
"Blacks and women are fundamental if you truly want to construct an inclusive country," Rousseff told journalists Friday at the presidential residence, where she will continue to live during the trial. "From its formation, I think the government clearly reflects that it is going to be liberal in the economy and extremely conservative on the social and cultural side."
Males identifying as white made up 22 percent of Brazil's population in 2013, according to the government's economic research institute IPEA. Women made up 51 percent of the population in the same year, and non-whites more than half the female population.
"Definitely a step backward that there are no Afro-Brazilians and no women," David Fleischer, professor emeritus of politics at the University of Brasilia, said by phone. "Some people will tell you that's politics, but that's traditional politics: turning the clock back 15 or 20 years. Those are two very vulnerable points for criticism."
Before it's here, it's on the Bloomberg Terminal.
LEARN MORE