Brainard Sways U.S.-Centric Fed to Think Global in Rates Debate
By and
Fed governor in Oct. warned on risks that FOMC cited in March

Brainard is still 'very attentive to any signs of softening'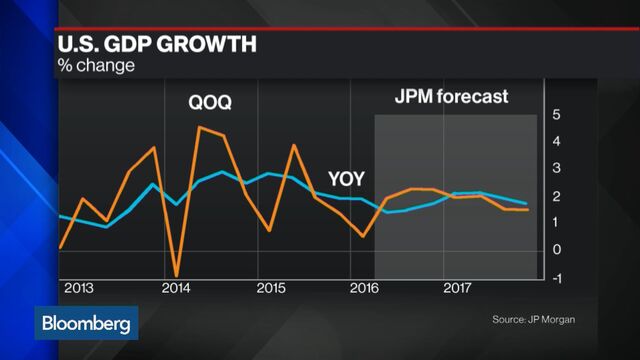 Federal Reserve Governor Lael Brainard had just committed something close to heresy in central banking circles. Speaking at a conference this year in mid-town Manhattan, she suggested that developed economies should confront common risks with coordinated action.
That drew a challenge from the audience. Laurence Meyer, a former Fed governor who runs an analysis firm in Washington, said domestic policy priorities take precedence at the U.S. central bank.

"The world has just changed fundamentally," Brainard shot back during the Feb. 26 exchange. "What China does matters to the U.S."
After a year lying low as the newest member of the Fed Board, Brainard started a policy push in October that has made an unusually clear mark for a governor -- a position generally overshadowed by the Fed's chair and vice chair that doesn't have much impact on the central bank's deliberations.
In a series of speeches she has called attention to a new order of global financial and economic linkages that bind the world's major economies more closely, especially when policy rates are near zero. If the Fed underestimated those ties and raised rates too quickly, Brainard warned, it risked provoking a backlash from financial markets that could force it into retreat.
It's a threat she still worries about. Brainard said in an interview this week that while there had been a "welcome" easing in financial conditions in recent months, "the global economic environment remains quite challenging, and global risks could re-emerge for a variety of reasons."
Early Warning
Her October warning would prove prescient. Within weeks of liftoff, when the Fed raised rates in December for the first time in nearly a decade and laid out projections for four more hikes in 2016, investors had taken fright over weak global growth.
The fallout from that turmoil, which tightened financial conditions and contributed to a slowdown in first-quarter U.S. growth, persuaded U.S. central bankers to put their planned rate-tightening campaign on hold while they waited to see how developments abroad would affect the outlook for U.S. hiring and inflation. Officials will revisit that decision when they next meet on June 14-15 to weigh forging ahead with another hike.
Brainard's views still sound close to the Fed's April statement, which said officials would "closely monitor" global risks as they opted to leave rates on hold.
"I remain very attentive to any signs of softening in the momentum toward our domestic goals as well as to stability risks emanating from abroad," she said this week.
Among those risks was a "snapback" in expectations about sharper policy divergence between the U.S. and the rest of the world, she said. That's a reference to a tightening of financial conditions and strengthening of the dollar that could recur if investors expect the Fed will raise rates while the European Central Bank and Bank of Japan are heading in the opposite direction.
The weight Brainard puts on international developments is not universally shared among Fed officials. Richmond Fed President Jeffrey Lacker said in April that the U.S. central bank should be "solely focused" on domestic conditions. Boston Fed chief Eric Rosengren on Thursday said domestic conditions should take priority in policy deliberations.
Clinton Loyalist
Even so, the 54-year-old Harvard Ph.D. is emerging as a top Washington internationalist, which could position her as a future U.S. Treasury secretary or Fed chief if Democrats retain the White House in November's presidential election. Such a Fed promotion assumes Chair Janet Yellen doesn't accept, or isn't offered, reappointment when her term ends in February 2018.
Brainard has left no doubt about her political loyalties. The long-time friend of the Clinton family has contributed $2,700 -- the legal limit -- to Hillary Clinton's presidential campaign, a move that sparked Republican criticism.
Brainard may have burnished her credentials for a bigger job by having influenced the policy debate.
"She has jump-started the conversation on global risks and obviously succeeded in persuading many of her colleagues in March," when U.S. central bankers lowered their rate-hike expectations for the year, said Andrew Levin, a former Yellen adviser who is now an economics professor at Dartmouth College. "The crux of her argument was the need to avoid overconfidence about how well we really understand linkages and spillovers in the global economy."
Fed officials in late October telegraphed they would consider raising interest rates at their "next meeting," an action they took on Dec. 16, while signaling their plan for four more hikes in 2016.
Earlier that month, Brainard had warned that such a decision could be unwise, citing a litany of risks that had already served to tighten financial conditions. They included "progressively gloomier projections of global demand," slowing growth in China that was spreading to other U.S. trading partners and a strengthening dollar that could damage exports "for several years."
Downside Risks
Though Brainard would ultimately join the unanimous vote among Fed policy makers to raise rates in December, she was protesting that move in October. "I view the economic risks as tilted to the downside," she said in her remarks in Washington that month, arguing there was a strong case to nurture the recovery and not "prematurely" remove policy support.
The previous day, on Oct. 11, Fed Vice Chairman Stanley Fischer had taken a different view, arguing he didn't anticipate that recent turmoil would have "significant effect on the path for policy."
By mid-February, the Standard & Poor's 500 Index had fallen 12 percent from where it stood when the committee raised rates in mid-December, shadowing global stocks lower despite continued solid growth in the U.S. labor market. Yields on U.S. government two-year notes plunged to 0.65 percent from 1 percent in that same time.
That signaled the policy-setting Federal Open Market Committee's projection of four rate hikes in 2016 lacked credibility among investors, while Brainard's warnings had been on the right track.
In her February speech, she said "the highly global role of the dollar and U.S. financial markets and the proximity of the zero lower bound may be amplifying spillovers from foreign financial conditions."
Domenico Lombardi, director of the global economy program at the Centre for International Governance Innovation, a Canadian think tank, said Brainard had broken with the classical view that drags from abroad mainly come through the trade channel.
"What we learned through the global financial crisis is that shocks can be transmitted rapidly through expectations, through confidence," said Lombardi, who was hired by Brainard when she worked at the Brookings Institution in Washington. "This is the implication of a more globalized economy."
Greater 'Clarity'
Brainard said in the Feb. 26 speech that the appreciation of the dollar and changes in stock prices and bond yields had resulted in a tightening of financial conditions equal to about three rate hikes. She called for "greater policy coherence and clarity" in a world of "intensified transmission effects" with rates near zero around the world.
At the March FOMC meeting, officials halved the number of rate hikes they expect this year to two and said "global economic and financial developments continue to pose risks." It was an acknowledgment of forces that she had been highlighting for months.
Brainard's focus on global risks aren't a surprise given her background. The daughter of a foreign service officer, she was raised in Poland and Germany during the Cold War. In the 1990s, she dealt with the Asian financial crisis as deputy director of President Bill Clinton's National Economic Council. Under Barack Obama she became undersecretary of the Treasury for international affairs and served as the administration's point person in dealing with the euro-zone sovereign debt crisis.
"Given her experience and her network, she absolutely brings a perspective that when China sneezes the rest of the world can catch a cold," said David Loevinger, who worked closely with Brainard as a China specialist at the U.S. Treasury and is now an analyst at fund manager TCW Group Inc. in Los Angeles.
That background could be tailor-made to lead the U.S. Treasury if Hillary Clinton wins in November. Of more than 10 former officials and economists interviewed who either worked with her or knew her, all said Brainard was highly qualified for the job and savvy enough to get policy executed.
She also developed a reputation as someone who'd defend a view she felt strongly about, according to several of the 10 former officials and economists, though that combativeness was viewed mostly as an asset, not a liability.
"She was forceful in seeking objectives that were very much in line with the administration's," said Charles Collyns, chief economist at the Institute of International Finance in Washington and a former colleague of Brainard's at the Treasury. "The Washington policy environment is not full of shrinking violets and she held her position."