U.K. Government Wants Media Regulator to Oversee BBC
By and
Culture Secretary Whittingdale proposes scrapping BBC Trust

BBC cites 'honest disagreement' on government role in board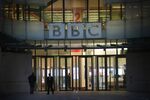 The U.K. wants to scrap the body that oversees the British Broadcasting Corp. and hand the responsibility to the government's media watchdog, which regulates commercial broadcasters like ITV Plc and Sky Plc.
Culture Secretary John Whittingdale called on U.K. lawmakers to eliminate the BBC Trust and replace it with a new board that would report to Ofcom, the U.K.'s media and telecommunications regulator. Members would be appointed by the government and the BBC.
The proposed overhaul follows complaints from rival broadcasters about what they call unfair competition from the BBC. While the BBC receives about 3.7 billion pounds ($5.3 billion) a year in public funding, commercial TV companies are largely dependent on pay-TV fees and advertising, which has been squeezed by the rise of digital programming.
Whittingdale said the plan, outlined Thursday, would "provide the foundations for a stronger, more independent, more distinctive BBC." He said there would be safeguards to protect the BBC's editorial independence.
The BBC said it welcomed plans for the new board but objected to how the seats would be filled.
"We have an honest disagreement with the government on this," Director-General Tony Hall said in a statement. "It is vital for the future of the BBC that its independence is fully preserved."
The BBC avoided some more onerous conditions sought by rivals. Under the "white paper," it would remain free to schedule ratings-grabbing shows like "Strictly Come Dancing" at times when private-sector broadcasters plan their own hits.
Whittingdale proposed renewing the BBC's royal charter, which governs the broadcaster's operations, for 11 years and extending the license fee on television-owning households. The BBC wouldn't have to share license-fee funding with commercial rivals.
He urged the BBC to be more transparent about its spending on talent, calling on it to disclose the salaries of stars who earn more than 450,000 pounds a year -- which could include talk-show host Graham Norton and radio presenter Chris Evans.
Criticism of the BBC within the U.K.'s governing Conservative Party goes back decades. Prime Minister David Cameron's appointment of Whittingdale as culture secretary after the 2015 election raised the prospect of moves to cut the size of the broadcaster. Whittingdale, announcing the review of the corporation last year, questioned whether it "should continue to try to be all things to all people."