Treasurers Worry Draghi's Bazooka May Chase Away Their Investors
by and
ECB announcement helped suppress borrowing costs toward record

Treasurers concerned ECB may squeeze out other investors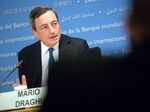 Even as Mario Draghi's pledge to buy corporate bonds drives borrowing costs toward record lows, some treasurers are sounding the alarm that it may ultimately cause harm.
QuickTake Europe's QE Quandary
The European Central Bank will start acquiring investment-grade securities next month as part of stimulus measures designed to combat weak growth and inflation. Adding the notes to its shopping list has helped suppress average yields close to the all-time low set last year, according to Bank of America Merrill Lynch.
The problem, treasurers say, is that the ECB may alienate traditional investors, making it difficult to rely on them for funding in the primary market and harder to buy and sell securities in the secondary market. Some companies have expressed concern that the ECB will dominate bond issues, according to Jean-Marc Servat, chairman of the European Association of Corporate Treasurers, which represents 21 national treasury associations across the region.
"In the short term, the effect is better financing conditions," said Norbert Mayer, group treasurer at BMW AG, one of the biggest borrowers in the region. "In the medium and long term, there could be more volatility in the secondary market, which would limit the pricing benefits."
An official at the central bank declined to comment on these concerns.

The ECB will buy euro-denominated debt maturing between six months and 30 years from non-bank companies with an investment grade from at least one ratings company, according to details it outlined last month. Euro-area national central banks will buy notes on behalf of the ECB in primary and secondary markets and up to 70 percent of each bond.
Servat, who previously held senior treasury positions at Cisco Systems Inc. and Nokia Oyj, shares some of the treasurers' concerns. There's a risk of market distortion if an entity owns too much of a company's debt, he said, adding it's his personal view. He's more comfortable with the ECB participating in the secondary market because the central bank could push traditional investors out of the primary market, he said.
"If the ECB grabs up to 70 percent of the issue, who's going to make the market afterwards?" said Henrik Hanche, head of corporate finance at Deutsche Post AG, Europe's largest postal service. "The ECB will stop the program sooner or later, and we'll be left with our long-standing investor base."
Control Allocations
The central bank may struggle to buy significant amounts of corporate bonds because treasurers can limit the size of primary-market allocations and the secondary market is illiquid.
Hanche said the company would consider controlling the amount of bonds the ECB could buy to preserve relationships and liquidity. Bonds of Deutsche Post, which also owns courier DHL, will probably be eligible for ECB purchases, according to a company spokesman.
Stefan Scholz, group treasurer at Continental AG, Europe's second-biggest car-parts maker, also said he'd feel uncomfortable giving 70 percent of an offering to the central bank and that investor allotments are normally below 15 percent.
The ECB has said it won't purchase primary-market deals from entities it deems "public undertakings" and will buy less than 70 percent of such deals in the secondary market. The central bank classifies a company as a public undertaking if a public authority has "dominant influence" over it, according to the European Parliament.
"You can't bank on the ECB as a loyal investor if it's just buying for a couple of months as part of monetary policy," said Ivo Kok, treasurer at Alliander NV. The Dutch gas and electricity distribution company, whose shares are directly held by provinces and municipalities, prefers long-term investors, he said.

Even as companies worry about unintended consequences, they're rushing to take advantage of demand. The prospect of ECB purchases is fueling bids from institutional investors and Deutsche Post's 1.25 billion-euro two-part deal in March attracted "the most appetite we've ever seen for a bond sale," Hanche said.
Highly rated firms in Europe have sold about 85 billion euros of securities since the ECB announced its plan on March 10, compared with 49 billion euros of bonds up to that point, data compiled by Bloomberg show. This week has been one of the busiest on record, the data show.
Average yields fell to 1.01 percent this week from 1.27 percent the day before the ECB's announcement, Bank of America Merrill Lynch index data show. The record low of 0.93 percent was set in March 2015.
Still, some treasurers worry that the benefits are temporary. The ECB may squeeze out existing investors and sap liquidity, leading to price volatility, said Peter Mueller, head of corporate finance at Bayer AG, Germany's largest company. It may push up yields when it stops purchasing bonds or if it sells many at once, said BMW's Mayer and Hanche at Deutsche Post.
"The ECB will have a positive impact on pricing, but it could have a negative impact on our investor base," said Continental's Scholz. "It's not possible to have a clear view today on whether the ECB's buying will be positive or negative for us."
Before it's here, it's on the Bloomberg Terminal.
LEARN MORE