Handle Comes Off Putin's Military Upgrade in Patriot Test
by and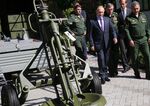 President Vladimir Putin praised recent improvements in Russian military equipment at meetings with defense chiefs on Thursday. It probably wasn't a good day for the handle literally to come off those claims.
As the president struggled to open the passenger door of a new UAZ Patriot vehicle, General Alexander Shevchenko stepped in and ripped the handle off the truck. "Well done," Putin said, according to a Lifenews video of the incident, which also showed Chief of the General Staff Valery Gerasimov looking startled.
Unperturbed, the general tossed the handle into the truck through the door's open window and tried unsuccessfully to open it from the inside. When it refused to budge, he turned to a rear door which opened normally.
The incident at the presidential residence in the Black Sea resort of Sochi happened as Putin was being shown three Patriot pick-up vehicles armed with machine guns and grenade-launchers. It's the second hiccup he's endured in the past month after the maiden launch of a rocket at Russia's new Vostochny spaceport in the Far East was delayed for a day by technical problems. Putin reprimanded Deputy Prime Minister Dmitry Rogozin and senior space officials for the delay, according to Kommersant.
'Combat Conditions'
Shevchenko explained to reporters later that the vehicle was a civilian version of the Patriot with a central-locking system, which military vehicles don't have. "All generals in the Russian armed forces pass physical-fitness tests," he said, when asked whether it had been difficult to pull the handle off.
Putin earlier Friday told defense officials that Russia was testing new weapons in "combat conditions" with good results. The Russian army has received around 4,000 pieces of weaponry and equipment in 2015, including 96 aircraft and 152 anti-aircraft systems, he said.
Russia has embarked on a massive rearmament program in recent years to improve its military. The proportion of modern weapons in the armed forces will reach 50 percent by the end of summer, from 47.2 percent now, Putin said at a meeting with defense officials on Tuesday.
Russia displayed its military power on Monday at the annual Victory Day parade on Moscow's Red Square to commemorate the end of World War II, which included the latest T-14 Armata battle tanks. One tank broke down at a rehearsal for last year's parade, when the vehicle made its debut appearance.
(An earlier version of this story was corrected to show day in first paragraph.)
Before it's here, it's on the Bloomberg Terminal.
LEARN MORE