Singapore Turns to Ex-Finance Minister After Heng Has Stroke
by and
Heng's condition described as 'stable' by Prime Minister Lee

Heng 'is one of Singapore's finest sons,' Shanmugaratnam says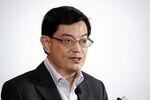 Singapore Deputy Prime Minister Tharman Shanmugaratnam will cover the duties of Finance Minister Heng Swee Keat, who underwent surgery on Thursday after suffering a stroke during a Cabinet meeting.
Heng's treatment helped relieve pressure in his brain from an aneurysm that led him to collapse during the meeting, according to a statement from the Prime Minister's Office late Thursday. The aneurysm, or weakening of a blood vessel, was successfully closed, it said.
Shanmugaratnam, who stepped down as finance minister in October after Heng's appointment, will assume his duties for now, according to a separate statement from Prime Minister Lee Hsien Loong's office. On Friday, Lee said that while Heng's condition was stable, he'll remain in intensive care for some time.
Emeritus Senior Minister Goh Chok Tong said in a Facebook posting he was "shocked" to hear of Heng's collapse. "He is a core member of the fourth generation leadership team," said Goh, who was prime minister from 1990 to 2004. "We need him."
Leadership Transition
Lee has elevated younger faces to key roles in his Cabinet in preparation for a leadership transition in coming years. Heng, 54, presented his first budget in Parliament in March.
A former central bank managing director, he previously held the education portfolio. Before heading the central bank, Heng was a principal private secretary to Lee Kuan Yew, the premier's father and the country's first prime minister, who died last year.
"Let's hope and pray for Heng Swee Keat, who is being treated in hospital after suffering a stroke during Cabinet meeting late this afternoon," Shanmugaratnam said Thursday on Facebook. "He is one of Singapore's finest sons, and a leader with much promise."
Prime Minister Lee said on Friday that he'd visited Heng in the evening, and he was sedated. "His condition is stable, but he will remain in the ICU for some time," Lee said in a Facebook post, using initials for intensive-care unit. "He is in very good hands."
Before it's here, it's on the Bloomberg Terminal.
LEARN MORE