Aramco IPO May Signal Concern Over Oil's Future, Chanos Says
by and
Short seller is betting Shell, Chevron are overpriced

Oil stocks are valued as if crude was $80 a barrel, he says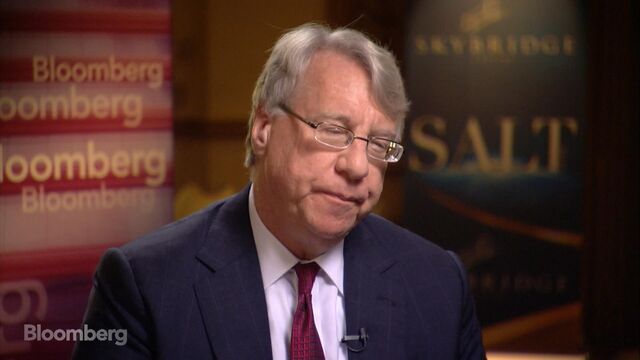 Saudi Arabia's plan to sell part of its stake in state-controlled oil producer Aramco may suggest the kingdom's leaders are worried about the long-term prospects for crude demand and prices, said short-seller Jim Chanos, founder of Kynikos Associates.
"What is Saudi Arabia telling us if they want to get out, want to sell 20 percent to you?" Chanos said on Thursday in an interview with Bloomberg Television's Erik Schatzker. "Are they worried? One of the concerns, of course, is the long-term price of oil and what if we get a move to electric cars and trucks, which would have a huge impact on long-term demand."
An initial public offering of part of Aramco, or Saudi Arabian Oil Co., may happen as soon as 2017, Deputy Crown Prince Mohammed bin Salman said in an interview with Bloomberg News on April 1. The sale will be limited to a 5 percent stake in the oil titan, he said.
Crude has surged more than 75 percent from a 12-year low in February, taking the shares of oil and gas producers up with it. The S&P Oil & Gas Explorers Index is up 40 percent since Feb. 11, with Chesapeake Energy Corp. more than doubling. Both independent explorers and integrated companies have problems, according to Chanos.
"I don't think the E&P model in North America is economic and I don't think it was real economic even at $80 and $100 oil," he said. "It's certainly not economic at $45 oil."
Shell, Chevron
Chanos also said he is shorting Royal Dutch Shell Plc and Chevron Corp., the second- and third-largest oil explorers by market value, because they have negative free cash flow and are relying on borrowed money to pay dividends. He said he closed out a short bet in their bigger rival, Exxon Mobil Corp., last year.
Shell and Chevron had negative free cash flow in the billions of dollars during the first quarter, Chanos said. "Those are sort of Petrobras kind of numbers. And what that means is the CEOs have convinced the boards that they should borrow to pay their dividend. How long that will be sustainable, we don't know."
Chanos also faulted Shell and Chevron for inflated debt levels and a "heavy reliance" on liquefied natural gas sales.
In January and February, Chanos closed out short positions on domestic oil explorers, a category of companies known as E&Ps. He said he may renew those short bets after a three-month rally in the share prices.
"A lot of those stocks have rallied up 200 percent, 300 percent, since mid February," Chanos said. "They are starting to look interesting again. The stock prices have outrun oil. They are discounting in some case $60, $80 oil."
Before it's here, it's on the Bloomberg Terminal.
LEARN MORE