Oil Trims Weekly Gain as Surplus Persists Despite Supply Losses
by
Exxon declares Qua Iboe force majeure as Nigeria supply slumps

Canadian production resumes as workers return to sites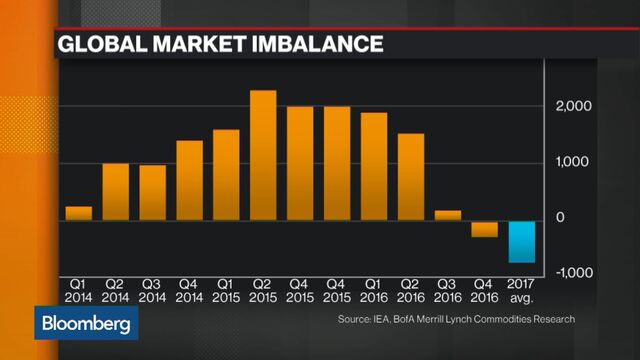 Oil pared a weekly advance as investors weighed the return of output from Canadian producers against global supply reductions from Nigeria to the U.S.
Futures dropped 1.1 percent in New York, trimming the week's gains to 3.5 percent. Companies including Enbridge Inc. are resuming operations in Alberta after wildfires curbed operations. Militant attacks have cut output in Nigeria to the lowest in 20 years. Exxon Mobil Corp. invoked a legal clause allowing it to suspend shipments of Qua Iboe crude from Nigeria without breaching contracts.
"There is no question the main driver is mounting outages in Nigeria," Michael Wittner, head of oil-market research at Societe Generale SA, said by telephone. "That's high-quality, light, sweet crude. The other big story of the week, which partly offsets Nigeria, is that the situation in Alberta seems to be getting better. The market is definitely weighing the two against each other."
Alberta Output
Producers in Canada are resuming output at some sites after wildfires took production offline. Enbridge is readying its oil-sands pipelines for startup after the blaze in Alberta, according to Chief Executive Officer Al Monaco, and Royal Dutch Shell Plc resumed output at its Albian site at reduced rates. There are no oil-sands facilities currently at risk from the wildfires, Chad Morrison, a wildfire manager for the Alberta government, told reporters Thursday.
West Texas Intermediate for June delivery declined 49 cents to settle at $46.21 a barrel on the New York Mercantile Exchange. Prices posted a gain this week after last week's decline. Brent for July settlement fell 25 cents, or 0.5 percent, to end the session at $47.83 a barrel on the London-based ICE Futures Europe exchange. The global benchmark crude traded at a 93-cent premium to July WTI.
Market Balance
Oil has rebounded after slumping to the lowest level since 2003 earlier this year as U.S. output declines. The global surplus in the first half of this year is smaller than previously estimated because of robust demand in India and other emerging nations, the International Energy Agency said. Still, further gains in oil prices "are likely to be limited by brimming crude and products stocks," it predicted.

The number of active oil rigs fell to 318 this week, according to Baker Hughes Inc. U.S. crude production dropped to the lowest level since September 2014 last week, according to an Energy Information Administration report released on Wednesday. Nationwide stockpiles declined in the week ended May 6 for the first time in more than a month, yet inventory still remains near the highest level since 1929, the report showed.
"There are a lot of opposing tensions in the market," Wittner said. "The market is weighing an outlook for the nearly balanced second half of the year versus the current situation. Despite these outages that we've had, we're still swimming in crude oil and products, too."
OPEC kept forecasts for global oil supply and demand unchanged, according to a monthly report. The group increased production by 188,200 barrels a day in April to 32.44 million, as gains in Iran and Iraq compensated for losses in Nigeria and Kuwait. Iran's crude production has returned to pre-sanction levels as the nation ramps up output to regain market share, according to the IEA. Saudi Arabia, the world's biggest oil exporter, plans "significant growth" in output in 2016 and further international expansion, the head of the country's state-run producer said earlier this week.
"A lot of the re-balancing is going to be tempered by how much market share do the Saudis give back," Bill O'Grady, chief market strategist at Confluence Investment Management in St. Louis, said by telephone. "They look like they're pretty aggressively trying to take what we give up."
More oil-market news:
Three bankruptcies this week show that $45 a barrel oil isn't enough to rescue North American energy companies on the verge of collapse.
Exxon Mobil Corp. said production of its Nigerian Qua Iboe grade will recover in a few days after a drilling rig damaged a pipeline.
Royal Dutch Shell Plc shut all oil and gas wells flowing to its Brutus platform in the Gulf of Mexico after a spill.
Before it's here, it's on the Bloomberg Terminal.
LEARN MORE