Norway Keeps Rate at Record Low as Oil Wealth Spending Jumps
by and
Norges Bank says rise in oil price may mean higher growth

Norges Bank says stronger krone may damp inflation more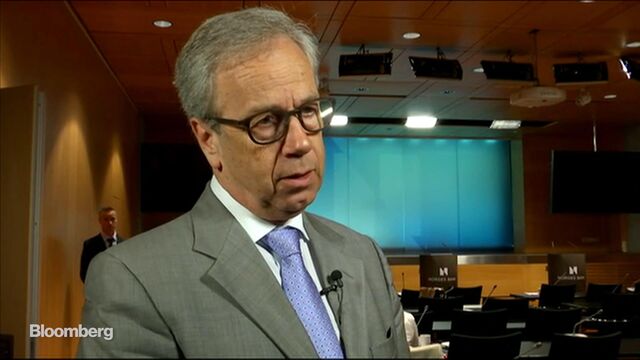 Norway's central bank left its benchmark rate at a record low as the government spends more of its vast oil wealth to keep the economy from slipping into a recession.
The main rate was held at 0.5 percent, as forecast by 17 of the 18 analysts surveyed by the Bloomberg. The decision follows a quarter-point cut in March.
"Consumer price inflation remains elevated, but a stronger krone may contribute to a slightly more rapid decrease in inflation than projected in March," the bank said in the statement. "On the other hand, the rise in oil prices may reduce uncertainty and contribute to somewhat higher growth in the Norwegian economy."
Norway on Wednesday revealed it will dip deeper into its $860 billion wealth fund to shield western Europe's biggest oil producer from lower crude prices. As the government adds stimulus, the central bank has signaled an increasingly cautious stance on further easing.

The krone jumped as much as 0.8 percent to 9.26 per euro as a separate report showed mainland gross domestic product grew 0.3 percent in the first quarter, beating a 0.2 percent estimate.
Norway is the only economy in Scandinavia where the central bank hasn't resorted to negative rates. The policy's effect in Denmark and Sweden has had mixed results on inflation, while both countries' mortgage markets are displaying signs of overheating.
Policy makers in Norway need to calibrate their message to avoid fueling krone gains. The government on Wednesday proposed a budget that will provide a 1.1 percentage point stimulus effect, up from 0.7 percentage point in October. It will use 205.6 billion kroner ($25 billion) of its oil wealth, up from the 195.2 billion kroner it estimated in October.
The krone is about 14 percent below its average against the euro over the past five years even after rallying almost 4 percent from a low in January. The price of Brent crude has gained 70 percent since January, but is still at a level where new big offshore investments are hard to justify.
Before it's here, it's on the Bloomberg Terminal.
LEARN MORE