Noble Group Gets $3 Billion in Credit Facilities
by and
Commodity trader was said to be seeking total of $3.5 billion

Noble Group separately reports 62 percent drop in 1Q profit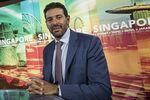 Noble Group Ltd. arranged two credit facilities totaling $3 billion, below the amount it was said to be seeking, as Chief Executive Officer Yusuf Alireza tries to turn around the junk-rated commodity trader.
The facilities comprise a $1 billion unsecured loan that's supported by 25 banks, and a $2 billion revolving borrowing-base facility, or BBF, the company said in a statement on Thursday. The Hong Kong-based trader, which reported a 62 percent drop in first-quarter earnings on Thursday, didn't disclose the cost and terms.
Noble Group's fresh financing follows cuts in its credit rating to junk by Moody's Investors Service Inc. and S&P Global Ratings amid a rout in raw-materials prices. Fitch Ratings Ltd. has placed the company on negative watch. The $2 billion BBF facility will be used to fund U.S. business requirements, according to the company statement.
"This is very much a sticking plaster, but a good one," said Robert Southey, London-based founder of Southey Capital Ltd., which trades in illiquid securities, especially distressed debt and private instruments. "The firm isn't out of the woods yet and nor is the sector, all across the commodity business and bulk shipping we are seeing further signs of distress."
Secured Finance
Noble Group had sought an unsecured loan of at least $1 billion and as much as $2.5 billion in a borrowing-base facility backed by inventories, people with knowledge of the matter said in March. The move to secured finance in the BBF, in which Noble pledges inventories, is a departure for the company, which has previously financed itself mostly through unsecured loans.
Noble Group is looking to chart a recovery in 2016 after a turbulent year that culminated in its first annual loss in almost two decades and removal from Singapore's blue-chip Straits Times Index. Asia's largest commodities trader has also been forced to fend off criticisms of its accounting, which it has denied. Its stock fell 65 percent in 2015 and another 10 percent this year.
The company relies on short-term credit to finance its trading operations, which range from oil and coal to metals. On the unsecured loan, Noble Group had been offering to pay 2.25 percentage points over the London interbank offered rate, according to people with knowledge of the terms last month. That compares with the 0.85 percentage-point spread it paid last year for a similar facility.
Agri Sale


Noble Group's efforts to manage its debt have included the sale of its 49 percent stake in Noble Agri Ltd. for $750 million. Its annual loss last year followed $1.9 billion in writedowns due mainly to a collapse in coal prices but also an impairment on the value of its former agriculture unit.
"The BBF allows for the issuance of trade-finance instruments, such as letters of credit, as well as for loans," Noble Group said in Thursday's statement. "The transaction is supported by a group of core banks led by Bank of Tokyo-Mitsubishi UFJ Ltd. and Societe Generale as joint lead arrangers and joint bookrunners."
Before it's here, it's on the Bloomberg Terminal.
LEARN MORE