Negative Rates Seen Pushing Japan Bank Profits to Four-Year Low
by and
Biggest lenders begin reporting earnings and forecasts Friday

Little incentive for bullish projections, Goldman analysts say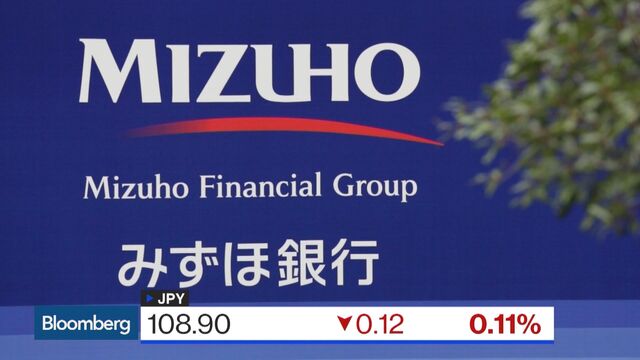 Japan's biggest banks may forecast the lowest profit in four years as negative interest rates squeeze lending margins and the commodity slump risks souring energy loans.
Combined net income at Mitsubishi UFJ Financial Group Inc., Sumitomo Mitsui Financial Group Inc. and Mizuho Financial Group Inc. is expected to fall 6.9 percent to 2.25 trillion yen ($21 billion) in the year ending March from a projected 2.42 trillion yen last year, according to the average estimate of nine analysts surveyed by Bloomberg.
The Bank of Japan's surprise decision to charge lenders for some of their reserves has made banks the worst performers on the Tokyo Stock Exchange this year and led to criticism from bank executives and analysts. The three megabanks' earnings from abroad are also under pressure as Asia's economic growth cools and provisions for bad debts in the energy sector rise.
"We expect to see to see an acceleration in the contraction of domestic interest margins associated with the BOJ's introduction of negative rates," said Akira Takai, a Tokyo-based analyst at Daiwa Securities Group Inc. "We see a certain degree of losses on credit overseas."

The Tokyo-based banks' combined net income probably rose 59 percent in the fourth quarter ended March 31 from a year earlier to 423.5 billion yen, the analysts' estimates showed. Mizuho and Sumitomo Mitsui are scheduled to report earnings for last fiscal year on Friday, along with forecasts for the current period. MUFG is set to post results on Monday.
Japanese Bankers Association Chairman Takeshi Kunibe last month predicted a "difficult" year ahead if slower global growth, low commodity prices and sub-zero rates persist.
Still, mitigating the expected drop in profit this year, banks may post gains from a campaign to sell some of their shares in client companies. The lenders have pledged to pare the holdings as part of Prime Minister Shinzo Abe's efforts to improve corporate governance.
QuickTake Negative Interest Rates
"We see little incentive for banks to issue bullish guidance against a backdrop of the BOJ's negative interest rates," Goldman Sachs Group Inc. analysts including Katsunori Tanaka wrote in a note on May 9.
Margin Squeeze
Japan's central bank started its negative-rate program in February, joining counterparts in Europe as it tries to stamp out decades of deflation by lowering borrowing costs and getting banks to lend more of their reserves. The move has sent loan rates and bond yields plunging, reducing banks' interest income while doing little to spur credit growth.
Loan profitability will erode further because lenders won't be able to pass on negative rates to depositors, MUFG President Nobuyuki Hirano said in a speech last month that railed at the BOJ's policy. Japanese banks have an average net interest margin of 1.2 percent, among the lowest in the world, according to data compiled by Bloomberg.

The Topix Banks Index has tumbled 31 percent this year, the most of all industry groups. MUFG, the nation's biggest lender, dropped 33 percent, Sumitomo Mitsui declined 27 percent and Mizuho slid 31 percent.
The worldwide commodity downturn is also a risk for Japan's banks, which have been ramping up lending abroad to make up for weak credit demand at home. While oil has rebounded this year, prices remain more than 50 percent lower than two years ago.
MUFG's U.S. subsidiary has seen energy-related loans worsen as the shale gas industry slumps. About 55 percent of the unit's loans to petroleum explorers were to borrowers categorized lower than normal as of March 31, swelling from 21 percent in September, according to its financial results.
Increased credit costs on the energy portfolios of the three megabanks will be "unavoidable," said Toyoki Sameshima, a Tokyo-based senior analyst at BNP Paribas SA. "We believe the megabanks will have to take reserves against loans to the resources sector."
Before it's here, it's on the Bloomberg Terminal.
LEARN MORE