Negative Rates Risk Weakness for Lenders, Says World Bank's Oteh
by and
Policy 'has led to maybe potential weaknesses in banks:' Oteh

Global economy is 'very fragile,' World Bank treasurer says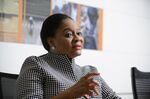 Nations that have adopted a negative interest rate policy to spur economic growth face the possibility of weakening their banks, according to Arunma Oteh, vice president and treasurer of the World Bank.
"We still have a global economy that is very fragile," Oteh said in an interview in Tokyo Wednesday. "What you find where you have had the expansionary monetary policy that has been useful, what you've also found is that it has led to maybe potential weaknesses in banks," according to Oteh, who said that was her personal view.
While the Bank of Japan's adoption of a negative-rate policy in January sent yields on the nation's benchmark sovereign bond yields below zero, lending growth has slowed compared with last year. The World Bank downgraded its 2016 global growth forecast last month to 2.5 percent from 2.9 percent at the start of the year, citing "a festering wound from the earlier sub-prime crisis and the sovereign debt crisis that is refusing to heal."
Nobuyuki Hirano, president of Mitsubishi UFJ Financial Group Inc., last month added his voice to a growing number of financial leaders warning of the risks negative rates pose for banking stability. He said lenders won't be able to pass on the minus rates to customers, and that will "gradually undermine Japanese banks' financial strength."
The European Central Bank first embraced negative rates in 2014, while Denmark is in its its fourth year of the policy.
The World Bank plans to issue about $58 billion to $60 billion of bonds this year, according to Washington-based Oteh. The globe's largest provider of development funding, in which the U.S. and Japan are the biggest shareholders, will source about 12 percent of those funds from Japan, she said.
Oteh joined the World Bank as vice president and treasurer in September 2015. Oteh, who has an MBA from Harvard University, previously worked as the head of the Nigeria's Securities and Exchange Commission and treasurer of the African Development Bank Group, according to biographical details on the World Bank's website.
Before it's here, it's on the Bloomberg Terminal.
LEARN MORE