Lula's Central Banker Returns to Take on Hardest Job of His Life
by and
Temer chooses banking veteran as his finance minister

Meirelles inherits a deep recession and soaring deficit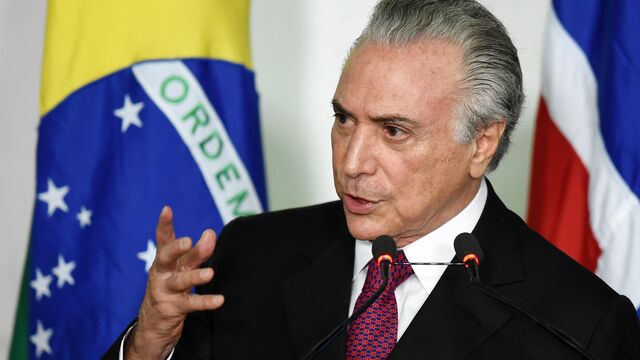 Henrique Meirelles is one of Brazil's most accomplished financial officials, a former president of BankBoston Corp. and President of the Central Bank during the country's acclaimed period of growth and stability. But he will have to deliver fast to pull the nation out of its worst recession in a century and win back investor confidence.
Meirelles, who slashed inflation when he was central bank chief for most of last decade, was appointed finance minister on Thursday by Michel Temer, the man who became acting president after Dilma Rousseff was temporarily removed to face an impeachment trial. Having had a foot in several political parties, Meirelles is seen as someone who can build consensus in Congress for the kinds of spending cuts that analysts say are needed to tame the deficit, slow inflation and lure back investors. He's scheduled to hold his first press conference late Friday morning.

"In many ways he is what Brazil needs," said Edwin Gutierrez, head of emerging-market sovereign debt at Aberdeen Asset Management in London. "He is a politician, he knows how to work in Brasilia."
While lacking charisma, Meirelles, 70, is admired by many in Brasilia and is an ambitious leader who could position himself for a run at the presidency in 2018 if his term as finance minister proves successful, especially in the current chaotic climate. Since leaving the central bank, he became a senior adviser at Kohlberg Kravis Roberts & Co. Ltd and the chairman at J&F Investimentos SA, the holding company that controls the world's largest meat producer, JBS SA.
Lost Investment Grade
For the better part of the past year, a rolling corruption scandal and the political turmoil accompanying Rousseff's impeachment have all but sidelined measures in Congress to curb a budget deficit that tripled in the past two years, costing Brazil its coveted investment grade credit rating and helping deepen a brutal recession.
QuickTake Brazil's Highs and Lows
Meirelles, Brazil's longest serving central bank president, kept inflation within the government's official target range in all but his first two years in office. That allowed him to cut the country's benchmark interest by more than half during his tenure -- the entire duration of President Luiz Inacio Lula da Silva's term.
Investors who saw inflation overshoot the government's 6.5 percent ceiling by more than 4 percentage points last year are now looking to Meirelles to repeat the feat by reining in spending and boosting productivity in the world's ninth-largest economy.
Although Meirelles had a famously collegial relationship with Lula, who left him alone to run monetary policy, Rousseff resented the banker's insistence on independence. Less than a month after her first election in 2010, Rousseff, who was Lula's handpicked successor, ruled out having Meirelles stay at the central bank.
Four years later, at the beginning of her second term, Lula urged her to bring Meirelles back to government as finance minister to stem a deteriorating economy. Again she demurred and chose Joaquim Levy, a University of Chicago-trained economist. He was hailed by markets as the ideal choice but he was gone in less than a year after failing to win support in the opposition or in Rousseff's own party for the austerity measures he was pursuing.
Ilan Goldfajn
Now, in a sign of the extensive powers Meirelles will have, Temer gave the trained engineer and business administrator a free hand in choosing a central bank chief. Ilan Goldfajn, currently chief economist at Itau Unibanco Holding SA, Brazil's biggest bank by market value, is Meirelles's top choice for that job, according to two Temer aides. Goldfajn, who served as a central bank board member between 2000 and 2003, didn't immediately reply to an e-mail seeking comment.
In an interview with Brazil's TV Globo last week, Meirelles said the country needs to change expectations that public debt will continue to swell by presenting realistic proposals that will find support in Congress.
Yet Meirelles will need to act quickly and decisively, said Eduardo Castro, chief investment officer at Santander Brasil Asset Management in Sao Paulo, whose 6.2 billion-real ($1.8 billion) fund FI Renda Fixa Santander Oviedo fund is the country's top performer among those with more than $500 million under management. The budget deficit has swelled to the equivalent of 9.7 percent of gross domestic product from less than 3 percent in early 2014.
"We can't forget how much trouble the Brazilian economy is in," Castro said. "From a fiscal perspective, you need a significant scaling back of public accounts just to stabilize the debt trajectory. But more than a quick change, we need a signal of where we are going."
Before it's here, it's on the Bloomberg Terminal.
LEARN MORE