LendingClub's 42% Tumble Failed to Turn It Into a Cheap Stock
by , , and
Shares are starting to trade like banks they used to eclipse

Price estimates have fallen almost as fast as the stock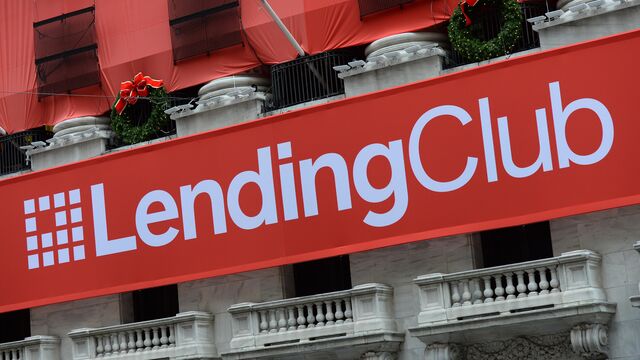 Think the 42 percent plunge that lopped $1 billion from LendingClub Corp.'s market value in two days has left the stock a screaming buy? Think again.
Shares of the fast-growing fintech tumbled to $4.01 from their close last week at $7.10, extending the 2016 drop to 64 percent after its chief executive officer resigned amid questions about internal controls. Even after the trauma, and leaving aside anything that might happen to the business, it's difficult to frame LendingClub as an obvious bargain relative to measures such as earnings and sales.
LendingClub has always been priced for growth with no margin of safety, a fact that was apparent to anyone holding the stock since it peaked just after its December 2014 initial offering then declined every quarter from a price seven times the level now. At its highest market capitalization above $10 billion the company was valued at more than all but 13 U.S. banks, data compiled by Bloomberg show.
Now it's smaller than every lender in the S&P 500 and still not quite a value stock. The shares trade for 15.1 times the average 2017 adjusted earnings estimate of 28 cents a share compiled by Bloomberg, compared with 13.9 times forecast profit for the Russell 3000 Financial Services Index. Large-cap banks in the S&P 500 Financial Index are cheaper at 10 times next year's earnings.

"Even at four dollars there's just too much risk here," said William Ryan, an analyst at New York-based Portales Partners LLC who rate its an underperform. "It started out as an Internet company, then it became a fintech company, and now it just looks like a specialty loan broker. There are just too many uncertainties right now."
To be sure, buyers still exist: almost 53 million shares changed hands yesterday, six times the 2016 average, and the stock has been little changed for two days. While almost as many brokerages say sell as buy and at least two have suspended coverage, Wall Street's average price forecast for the stock implies about 50 percent upside from here.
A note this week from Craig-Hallum Capital Group LLC said LendingClub might be valued in a takeover something like a bond, with a diversified bank interested in a platform that might create an $11 billion loan portfolio with a 5.5 percent risk-adjusted yield.
"Now in a distressed sale, we would not expect a competitive bid near this level, but someone would be willing to pay something to get this inherent value which we peg at $12.28 a share," analyst Bradley Berning wrote.
Here are some charts for analyzing the valuation case.
Enterprise Value

Analysts valuing the online lender usually compare its enterprise value with earnings before interest, taxes, depreciation and amortization, a metric often used in takeovers. In calculating enterprise value, Wall Street firms generally subtract cash from Lending Club's market capitalization -- Pacific Crest Securities gets a value of $944.9 billion, or 10 times its estimate for 2017 EBITDA of $95 million.
That's still a bit above the multiple accorded a basket of 10 specialty finance companies the firm compiled, including Santander Consumer USA Holdings Inc., Synchrony Financial and OneMain Holdings Inc.
Price Targets

Using price targets from always-optimistic analysts for the San Francisco-based company reveals a company that is not yet trading at a steep discount to expectations. While the stock has all but crashed in the last week, Wall Street targets have followed it down almost as fast, leaving the price about $2 below the average target of $6.32. That's the smallest gap in more than a year.
Sales
A $4 price target at Compass Point Research & Trading LLC values the company at 1.8 times the firm's 2017 sales estimate of $922 million, roughly the company's market capitalization now. While somewhat cheap relative to the Russell 2500 Financial Services Growth Index's multiple of 2.8, it's in line with price to estimated sales in the S&P 500 financial index. True, LendingClub's revenue is supposed to grow a lot faster than the benchmark group's.
Book Value

One metric on which LendingClub compares favorably to other high-growth financial services company is its price to book value. The stock is trading at about 1.3 times analysts' average estimate of assets minus liabilities, compared with 2.9 times for the Russell 2500 Financial Services Growth Index. But in the Russell 3000 Financial Services Index, the average price-to-book multiple is the same, 1.3.
Before it's here, it's on the Bloomberg Terminal.
LEARN MORE