Leicester Said to Renegotiate With Puma After Soccer Miracle
by
Fans have not been able to buy club jerseys in months

Sponsors give top teams millions, lesser clubs get free gear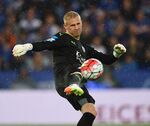 When Leicester City signed its first apparel deal with Puma SE four years ago, the team was firmly ensconced in English soccer's second division. A Premier League championship seemed less likely than Bono becoming Pope, and so team executives never thought to include a bonus clause in its contract with Puma.
The two parties are now in talks about a new contract that would reflect Leicester's sudden and unexpected status as England's best soccer team, according to people familiar with the discussions, who asked not to be identified. The terms of the existing arrangement are private, but it is worth a fraction of what the league's traditional powers earn from their sponsors, and there are several years left on the deal, said the people.
This season, in lieu of a bonus payment, Puma will pay for additional marketing for the club, including an open-top bus tour next week and the team's preseason tour to the U.S. The sportswear manufacturer based in Herzogenaurach, Germany was as surprised as the rest of the world by Leicester's rise. It made about 25,000 shirts to sell to fans, an inventory that has been sold out for months. Next season, it will produce as many as 90,000 shirts. 
"The global spotlight and interest is clearly there and given the reach of the Puma organization, we are well placed to help them continue to grow its fanbase, visibility and commerciality across key markets," Puma said in a statement.
Manchester United, the record 20-time English champion, has the U.K.'s biggest technical equipment agreement, a 10-year 750 million pounds deal with Adidas. Puma pays London-based Arsenal about 30 million pounds a season, similar to Adidas's arrangement with Chelsea. Those figures dwarf the amount available to teams like Leicester, which typically get free kit for the club and discounts on stock to retail to fans.
Arm's Length
Until this year, Puma's relationship with Leicester was managed at arm's length by a company based in Manchester that is responsible for arrangements with lower-tier teams in the Puma stable. They include Fleetwood Town, the semi-professional club where Leicester recruited its top scorer Jamie Vardy from.
Leicester defied odds of 5,000-1 to win the league, after narrowly escaping relegation the season before. That unprecedented success has put the Foxes in the global spotlight, and Puma is struggling to put a value on a new deal, according to one of the people. The Foxes will also share the stage with the best teams in Europe in next season's Champions League.
Leicester's TV audiences are up more than 23 percent across metered markets globally with 29 percent growth in the U.K., according to Repucom, a sports-intelligence company. As a result, Repucom said, the team's media value has grown 30 percent globally and 70 percent in the U.S., where the team's zero-to-hero story has captured viewers' imaginations.
"Commercially speaking there is very little to compare what the club has achieved with any other team, which does make forecasting specific revenue streams such as sponsorship rights more difficult," said Jon Stainer, managing director U.K. and Ireland for Repucom.
Puma rose 2.4 percent Thursday to 205 euros at 3:36 p.m. The shares gained 0.8 percent this year through Wednesday, beating an index of the German equity market, which declined 6.3 percent, but trailing Adidas, which surged 26 percent.
"There's definitely increased value there for Puma, but it's incremental rather than game-changing -- and for Leicester the premium is not as much as people might assume," said Carsten Thode, chief strategy officer at London-based sports marketing company Synergy. The biggest teams "remain literally in a different league."
Puma's biggest kit agreement in the U.K. is with Arsenal, a perennial Champions League qualifier with fans across the world. It handles that relationship centrally as well as those with Newcastle, Glasgow Rangers and now Leicester City.
Before it's here, it's on the Bloomberg Terminal.
LEARN MORE